Due to its proprietary 'Amorphous Diamond Treatment' (ADT) that coats and infuses into its underlying CZ core, as well as its proprietary optical layer with a refractive index higher than diamond, we feel no other simulant approaches Asha in diamond-like appearance. In fact, our process of creating the Asha is so unique that we have filed for a US patent on it (US Patent Pending).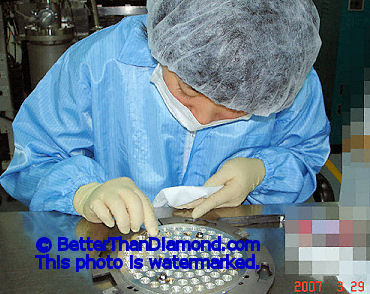 (Asha being prepped for the ADT process)

Here is a chart overview of the Asha as compared to other competitors products:



| | | | |
| --- | --- | --- | --- |
| | Asha® | Diamond Nexus® | Russian Brilliants® |
| Composition | Enhanced CZ | Plain CZ | Plain CZ |
| Patent pending | | No | No |
| Raman testing | | No | No |
| Goniometry testing | | No | No |
| XPS testing | | No | No |
| Brilliancescope® testing | | No | No |
| Light Analysis Testing | | No | No |
| Test results posted for public viewing? | | No | No |
| Other | | Lab testing showing product is plain CZ is here. | |


The ADT of Asha offers additional hardness, toughness and scratch resistance. The ADT and optical layer also offers enhanced luster, glossiness, and combined with Asha's optimal cutting, it gives the Asha the ability to exceed most natural diamonds in terms of brilliance, dispersion and scintillation (see our posted Light Analysis reports posted under most individual cut product pages).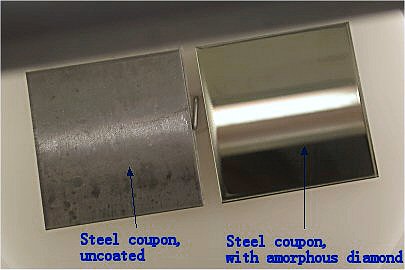 Above: A comparison of two steel plates, one coated with amorphous diamond, the other plain.
Clearly, the addition of the amorphous diamond significantly improves surface luster and gloss.

Standard CZ is somewhat porous. Thus, skin oils, soap and dirt can stick to and quickly be absorbed into the stone clouding and dulling its appearance, even within a few hours of wear. Asha's ADT is non-porous, and with its coefficient of friction less than that of Teflon, non-stick, so skin oils, etc. are not absorbed and can be easily cleaned away.

CZ is made of thicker molecules than diamond so more light is slowed down while passing through which moves additional light from the non-visible spectrum into the visible spectrum and the first color the human eye can see is blue, and this is the reason many standard CZs have an awful bluish cast or haze. This bluish cast should not be confused with reflection, as an example: looking at a diamond or sim in sunlight on a clear day and the stone looks blue simply because it is reflecting the blue of the sky. The ADT of Asha filters out much of this additional light, giving it closer light return to that of a diamond.

CZ has less brilliance (white light return) than a diamond but more fire (colored light return) and is singly refractive, as diamond is. Moissanite has more brilliance, fire and luster than diamond but is doubly refractive (each single facet edge looks like two) which can lend a 'fuzzy' appearance to the stone in many lighting conditions.

Additional benefits:



Stays cleaner, longer: When the Asha was first being made in 2001, we only coated the upper portion of the stone on the initial prototypes. However, testers who had no knowledge that we had only coated the top, immediately began noting that the bottom of their stone rapidly dirtied compared to the top, and so we thus changed to completely coating the entire stone once production began.

Prevents the clouding reaction of CZ: Plain CZ is oxygen deficient, and as such, it constantly tries to 'steal' oxygen by reacting with both water and carbon dioxide. This is the reaction that can lead to a CZ clouding over time, and has in fact been noted on competitors plain CZ product right out of the package.

From Anderson Materials Lab report which showed that the Diamond Nexus Labs "lab diamond" is a plain CZ:

"ZrO2 (CZ) is susceptible to absorbing water and CO2 to make 3ZrO2 *CO2 *H2O. This reaction may be the cause of the cloudiness that often times besets cubic zirconia in time. With the surface sensitivity of XPS, we may be able to observe the reaction that causes this cloudiness much earlier than it can be seen by other techniques. The amorphous diamond or diamond-like carbon coating of the Asha diamond simulant would prevent this reaction of cubic zirconia from taking place and is another advantage of its use."

The amorphous diamond completely seals the CZ and thus prevents this clouding reaction from occurring.

Improved glossiness and luster: The amorphous diamond, being composed of carbon and thus a smooth, tightly knit surface, helps improve the finished luster and gloss of the finished Asha. It is very similar to the way most auto manufacturers apply a clear coat on top of the paint to improve glossiness.

Improved durability: Due to the amorphous diamonds exceptional hardness, as well as its having a coefficient of friction that is better than Teflon, it boosts the finished Ashas durability as compared to uncoated CZ.


Asha is also unique in that we have published the results of multiple independent lab tests (Raman, XPS and contact angle goniometry) to further show the difference our amorphous diamond treatment makes. You may wish to view the details of these tests and their results here:
http://www.betterthandiamond.com/asha5/index.php

You can see the difference our ADT/optical layer makes when compared to a plain CZ under digital refractive index here:

Plain CZ (2.165 Refractive Index):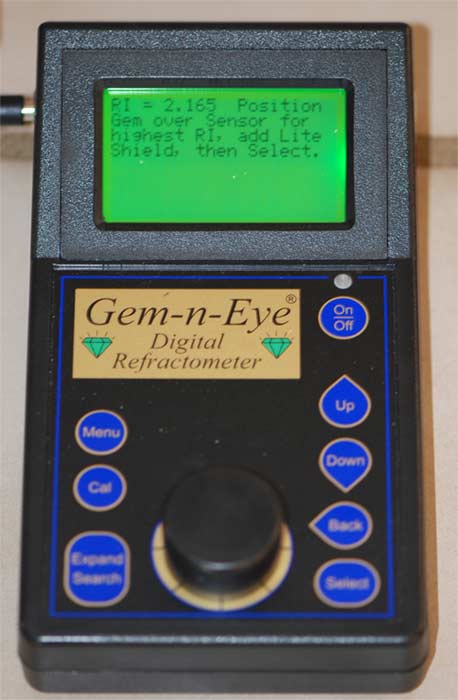 Asha v6: (Ranged from 2.20 - 2.24 as Asha is a composite product):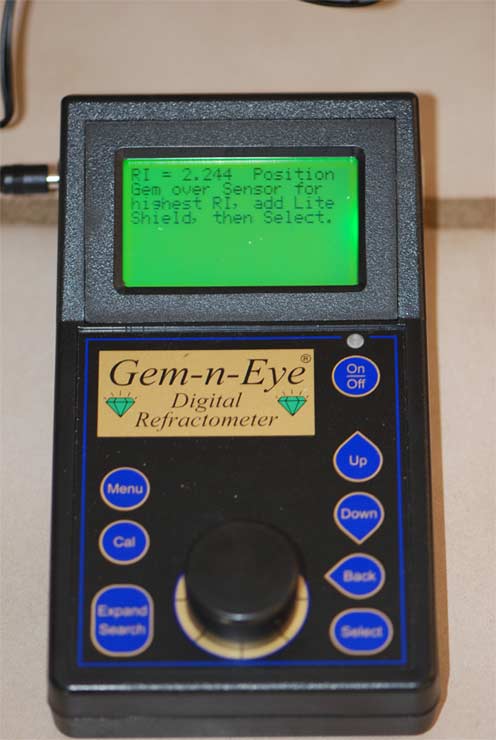 Asha is a patent-pending product, and with its ADT and proprietary optical layer, offers an incredible diamond-like luster/gloss and a beautiful balance of brilliance and fire.