Diamond Nexus Labs "lab-grown diamond" has been tested by multiple labs (3 Independent Materials Analysis Labs) and in all cases, the product has repeatedly been shown to be ordinary CZ.

Summary findings from the various labs:

1 - Anderson Materials (http://AndersonMaterials.com) - XPS analysis -

"The principal elements of the gemstone are Zirconium, Yttrium and Oxygen, so the gemstone is a common cubic zirconia".

Link to full report:
http://betterthandiamond.com/diamondnexuslabs/DiamondNexusLabsMaterial.pdf



2 - Innovatech Materials Analysis (http://InnovatechLabs.com) - EDS and ESCA analysis:

"EDS analysis detected mainly zirconium, oxygen and yttrium with some hafnium and carbon.
No coating was detected."

"ESCA showed oxygen, zirconium and yttrium and carbon. No evidence of a sapphire coating."

Note - Hafnium is a common impurity with Zirconium.
Per Innovatech: "The ESCA data will almost always show the presence of carbon on any as-received sample." (due to hydrocarbons in the air)

Click to view full report in PDF Format


3 - Evans Analytical Group Materials Analysis (http://eaglabs.com) - Raman Spectroscopy:
"Raman spectroscopy did not detect the presence of sapphire (corundum, Al203)on the "Diamond Nexus Labs" gem, which was indeed Cubic Zirconia (CZ)."

Click here to view full EAG Labs analysis in PDF format

Note that IPCyberCrime.com was hired to purchase two of the Diamond Nexus stones (for EAG Labs and Innovatech Labs testing) in order to preserve the details of the testing at the strict level required for use as evidence in legal proceedings (chain of custody, etc).



Additional evidence: One of our Asha resellers recently replaced a Diamond Nexus Princess center stone with an Asha princess for a customer. In doing so, they noted that the faceting pattern of the Diamond Nexus stone was an exact match for the CZ sold by Stuller. They took this photo to show the difference between an Asha princess (in tweezers) and the Diamond Nexus stone (in ring):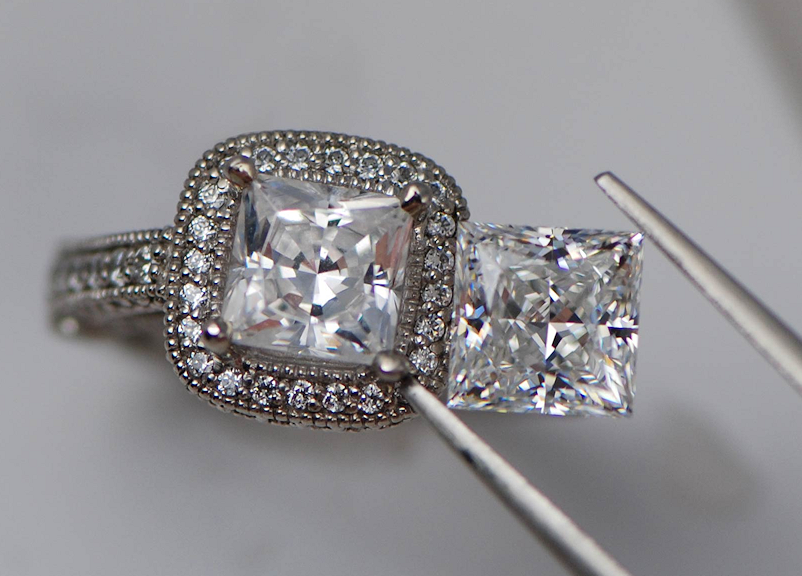 The Diamond Nexus stone (mounted in the ring above) as noted, looks amazingly identical to the Plain CZ princess sold by Stuller here:
http://www.stuller.com/products/square-lab-created-white-cubic-zirconia/197643/?groupId=92781

Finally, a customer posted on the DNL facebook wall that per a former Diamond Nexus employee, that the Diamond Nexus stones were in fact plain CZ purchased from Stuller:






These test findings and additional implied evidence are in stark contrast to their websites adamant claims that the product is "not a CZ", and their continuous misleading advertising of 'lab grown diamonds' for sale.

A sample of their advertising and claims is below:


Statements to customer about the composition of their product: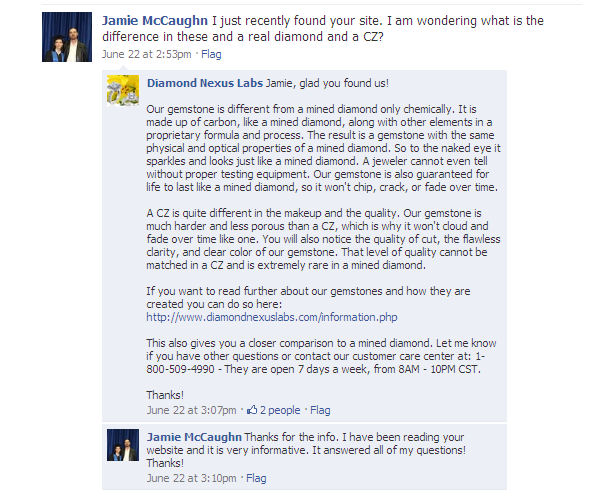 Claims on their website: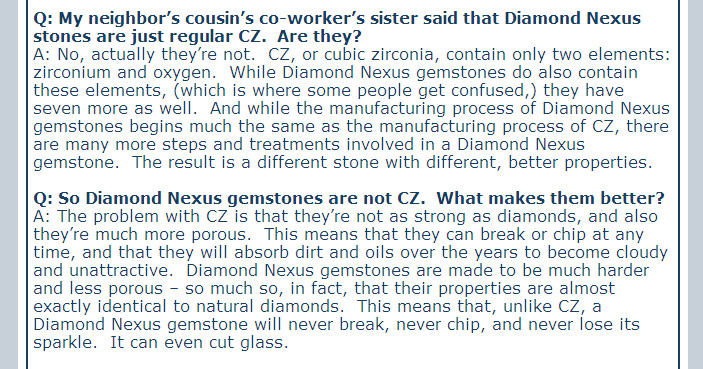 Diamond Nexus has never shown any verifiable, independent testing to refute the test results confirming it is a common CZ. Why is that?

Instead they threaten lawsuits and advertised those lawsuits, instead of simply providing proof that their product is not plain CZ. And plain CZ absolutely does not have the same physical and optical properties of a diamond, whether lab grown diamond or natural diamond.


Further details from the Anderson Materials report include these specific findings:

"The principal elements of the gemstone are zirconium, yttrium, and oxygen, so the gemstone is a common cubic zirconia."
"No Hf, Fe, Ni, or Co were detected, despite Diamond Nexus Labs listing them as present in the FAQ's page of their website."
"An excess of oxygen was observed on the surface. This may be due to the reaction which can cause cubic zirconia to become cloudy and is observed here in an early stage due to the great surface sensitivity of XPS." [Comment: one benefit of the Asha's amorphous diamond coating is to prevent this reaction]
"The claim that the gemstone is polycrystalline must come from a misunderstanding on their part. A cubic zirconia gemstone which was polycrystalline would be very undesirable...The polycrystalline material is good for furnace bricks, but not for gemstones, especially given their claim to make the World's Finest Diamond Simulant Gemstones."

A full copy of the Anderson Materials Lab evaluation is here:
Diamond Nexus Labs XPS review and independent testing results

Of interest, after we posted the Anderson lab report in late 2007, we received a letter from Diamond Nexus Labs threatening to sue us, as well as spend "hundreds of thousands" of dollars on a smear campaign against our company unless we pulled the report from public view by Dec. 10, 2007. It was interesting in that it did not make any claims that the lab was mistaken or provide any evidence refuting the lab report...rather it was focused on demanding we pull the report or face a smear campaign about our own product (on the apparent assumption that we were not really coating our product). Unfortunately for them, the Asha simulated diamond is US Patented for a reason, and we have multiple independent lab reports verifying our amorphous diamond coating. Further, we recently concluded a lawsuit against SonaDiamond.com where Sona counterclaimed that BetterThanDiamond was falsely advertising...that did not go to well for them. (Visit http://SonaDiamond.com for more).

A copy of the letter is here (PDF format). No legal action was forthcoming, since as any lawyer can advise "Truth is the ultimate defense".


Besides deceptively advertising their product as "lab grown diamond", Diamond Nexus previously took photos of natural diamonds, and even the Asha diamond simulant, and represented them to customers as being photos of their product. One blatant example (from 2006) is shown below:


Original photo of a 1920's natural Asscher diamond by Nelson Rarities
Photo as shown on Diamond Nexus website and saved Sept. 1, 2006. This photo was used as the product photo for their Asscher cut.
(blue arrows added after to highlight the leftover prongs).
Of further interest, the CEO of Diamond Nexus (Gary LaCourt) was apparently convicted of fraud and served time in prison before starting Diamond Nexus Labs. After his release from prison and before starting Diamond Nexus, he apparently billed himself as the "Internet Dating Professor" and hawked an online guide promising secrets for middle aged men to easily garner a 'bumper crop of hot babes' at the website RainingWomen.com.


Another poster has claimed, with supporting evidence from domain registration of Diamond Nexus Labs.com, that the other founder of Diamond Nexus (Robert Joseph) is in fact Robert J. Febre, a repeat offender with the FTC and whom has served multiple jail sentences, as well having a judgement from the FTC forcing a $16 Million dollar payback to 200,000+ consumers he defrauded.
Full details in this post here:
http://www.betterthandiamond.com/discussion/ubbthreads.php/ubb/showflat/Number/562972#Post562972


Their claims are that Robert Febre and Gary LaCourt served time together at Duluth prison camp and it is speculated this is where they met.
Here is a link to the Federal Bureau of Prisons website where you can independently verify some of this posters claims - search for Robert Febre and Gary LaCourt
http://www.bop.gov/iloc2/LocateInmate.jsp

Another consumer has posted comparison photos of the Asha diamond simulant compared to the Diamond Nexus product here:
Comparison photos

Further, another poster found that Diamond Nexus Labs appears to purchase their product from Signity, the worlds largest cubic zirconia manufacturer:
Diamond Nexus Labs product is ordinary Signity CZ?

Our message boards contain a wealth of additional information, with over 510,000 postings from consumers around the world and can be viewed here:
http://betterthandiamond.com/discussion