Special order page for an Avarra™ Custom cut, lab grown Colombian Emerald.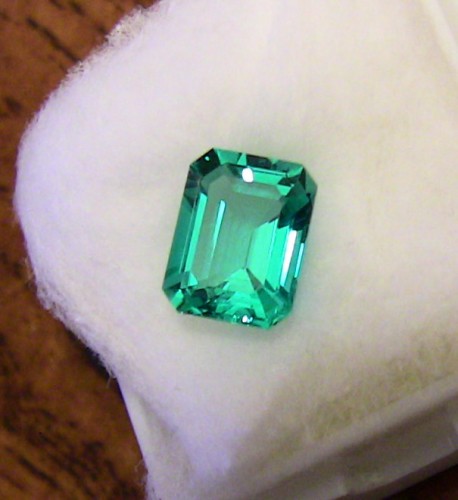 Above: customer photo of their Avarra Lab Grown Colombian Emerald
We cannot control whether there are inclusions or not. Typically the emeralds are clear even under magnification. Larger stones sometimes have a small inclusion visible under high magnification, but not always.
This will be a nonreturnable and nonrefundable special order. Once the stone is finished, we will deduct the cost of the deposit from the final amount due.
You can now place and order for us to custom cut an Avarra™ lab grown colombian emerald to your specifications. Current turnaround is roughly 3 weeks.
What is an Avarra lab grown Emerald?
Avarra lab Emeralds are *real* emeralds, with identical chemical, optical and physical attributes, the same as mined emeralds.
The only difference is these are grown under heat and pressure in a laboratory, rather than mined. The process takes about one month and produces an approx. 100ct piece of emerald rough, which is then cut into smaller finished stones.
Our Avarra emeralds are grown via hydrothermal method, and thus the inclusions present are the same found as those in natural emeralds.
Custom cut stones can take up to 3 weeks between order and when the cutting is complete.
Final price is simply $99 * carat weight, less the deposit. (Note - should the deposit exceed the final price of the stone, the difference will be refunded).
Once the custom cut emerald is ready, we will weigh it and email you to let you know the final price - you can then checkout with a misc payment to settle the balance and we will ship out your new emerald.