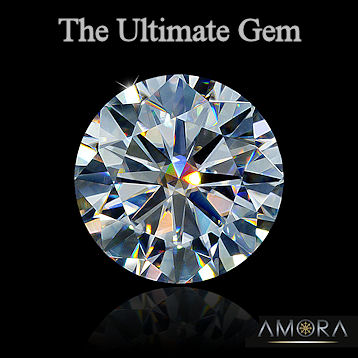 Amora® Hearts & Arrows Gem - The Ultimate Gem, and the first lab gem to surpass diamond by nearly every measure.
(Please note - due to limited initial production and high demand, the intial Amora GEM's are being sold via waiting list and not via standard ordering from our site. You can sign up using the 'notify me' option on our information site at http://amoragems.com )
5/21/13: Update - First production of the new Amora GEM is nearly underway and we expect to have H&A rounds going out to those on the waiting list for 2ct - 6ct sizes starting in August.
Amora gem is a naturally occurring crystal around very large stars, where it occurs as stardust (See Astronomy & Astrophysics journal, April 1988). The Amora gem crystal only grows in extremely high temperatures that would quickly vaporize diamond. Due to the incredibly high temperatures it requires for growth, it is only present on Earth in rare quantities near the Earth's heated core, and it's lack of availability is perhaps one reason that diamond became the most prized gem on Earth.
However, on 11/11/11 the Amora gem debuted alongside the oldest crystals on our planet (Jack Hills Zircon, 4.4 Billion years old) at the Hungarian Natural History Museum in a display entitled "The Oldest and The Newest", and the multi-patent-pending Amora H&A gem will be available to consumers in select countries for the first time in limited quantities in early 2013.
Amora H&A lab grown gem compared to Diamond:
10% more Brilliant than Diamond
200%+ more Fire than Diamond
Greater physical stability than Diamond
F color - better color than most diamonds
Hearts and Arrows precision - better cutting than 99% of all round diamonds
Greater Purity than Diamond - Atomically, Ethically, Environmentally
Scores significantly better in the 5th C - Cost, oftentimes 40:1 better pricing for comparable color, carat weight and clarity.
Amora H&A is The Ultimate Gem.
Amora H&A gem compared to other gems:
More brilliant than Moissanite
Far better color than Moissanite by Charles and Colvard, and absolutely no green tinting in diffuse lighting (F Color vs. K-N color)
26.7% Harder than Sapphire
More brilliant than CZ
Harder than CZ
In short, Amora gem is truly the ultimate gem, eclipsing diamond in every measure of optical beauty.
(Note: For additional details, you may also want to read through our 11/11/11 debut presentation on our message boards here - link )
H&A Cutting:
Within a given crystal type, cutting controls 98% of the brilliance.
Thus, we have devoted significant resources to modeling, cutting, designing and testing the Amora H&A in order to achieve an optimal and maximal balance between the two competing goals of maximum fire and maximum brilliance for Amora gems unique optical properties. The Amora H&A design is the final winner of a number of evaluated parameters and proportions and strikes the ultimate balance for both fire and brilliance.
Amora H&A is now multi-Patent Pending in the US, and we have additional foreign patents in progress. (US Patent applications: 13224468, and 13733061, and International patent application: PCT/US12/28892)
Additionally, all Amora H&A's will be cut *exclusively* by robot, an industry first. Robotic cutting enables super-human precision and incredible craftsmanship compared to hand cutting, as the robot only cuts to optimal proportions and exacting symmetry. This ensures that *every* Amora H&A has unparalleled beauty.
Availability:
Amora H&A is an upcoming product that is not currently available for sale.
Due to competing patent restrictions from Charles & Colvard related to SiC gems that covers several crystal sub-types including the Amora gem's crystal structure, Amora H&A may not be available in your country until 2012 to as late as 2016 - whenever the related patent expires. Many countries including New Zealand, India, Singapore, etc. are however patent-free and you may purchase as soon as we begin sales by signing up on our waiting list at http://amoragems.com.
Some common questions:
1 - Can I purchase a Amora H&A in the future?
Depends on where you live - you can view the 'ban list' of where Charles and Colvard current patent restricts us from selling to (until on average, 2015/2016) here:
Customers in India, New Zealand, Singapore, Qatar and many other locations will be able to order as soon as we launch in 2012.
2 - What will Amora H&A cost?
On average, $599/ct.
We will also note this - Amora H&A is not designed to be made in a cost cutting manner to meet a price point or maximize the amount of finished carat weight from each stone cut. Rather, it is the ultimate gem and thus it has one goal - to be the most beautiful lab gem on the planet.
And that means we do not design, cut, or produce to compete by cutting corners and lowering the cost. We compete solely on beauty and every decision involved is made with that focus. However, compared to H&A natural diamonds, we think you will be very pleased with the comparison in every way, and especially price.
Example:
2ct F color, VS, H&A round natural diamond: $47,336
2ct F color, VS, H&A Amora gem: $1,199.00
In other words, at about 2% of the natural diamond price, you could purchase the same 4C quality grade (cut/color/clarity/carat) Amora gem, even while Amora gem exceeds diamond in terms of optical beauty (i.e. 10% more brilliant than diamond and over 200%+ more fire).
3 - What color grade will the H&A Amora be offered in?
F color, true colorless on the GIA Diamond grading scale.
4 - What are the dimensions of the various sizes? I want to have a setting ready.
Note: Currently our Asha H&A round is the best proxy for now while waiting for the Amora H&A Gem with similar depth measurements.
| | | |
| --- | --- | --- |
| Carat weight* | Diameter (mm) | Depth (mm) |
| .75 ct | 6.0 | 3.65 |
| 1.00 ct | 6.5 | 3.95 |
| 1.25 ct | 7.0 | 4.26 |
| 1.50 ct | 7.5 | 4.56 |
| 2.00 ct | 8.0 | 4.86 |
| 2.50 ct | 8.5 | 5.17 |
| 3.00 ct | 9.0 | 5.47 |
| 3.50 ct | 9.5 | 5.78 |
| 4.00 ct | 10.0 | 6.08 |
| 4.25 ct | 10.5 | |
| 5.00 ct | 11.0 | |
| 5.50 ct | 11.5 | |
| 6.50 ct | 12.0 | |
| 7.25 ct | 12.5 | |
| 8.00 ct | 13.0 | |
| 9.00 ct | 13.5 | |
| 10.00 ct | 14.0 | |
| 11.25 ct | 14.5 | |
| 15.00 ct | 12.25 | |
* Carat weights are for the approx diamond equivalent of the same size (mm dimensions, or volume, into diamond equivalent). Amora Gem is lighter in weight than diamond, and the actual carat weight of the Amora gem on a scale will be lower than a diamond of the exact same size.