"Amora August Vintage OEC - The Super Ideal OEC (Old European Cut)"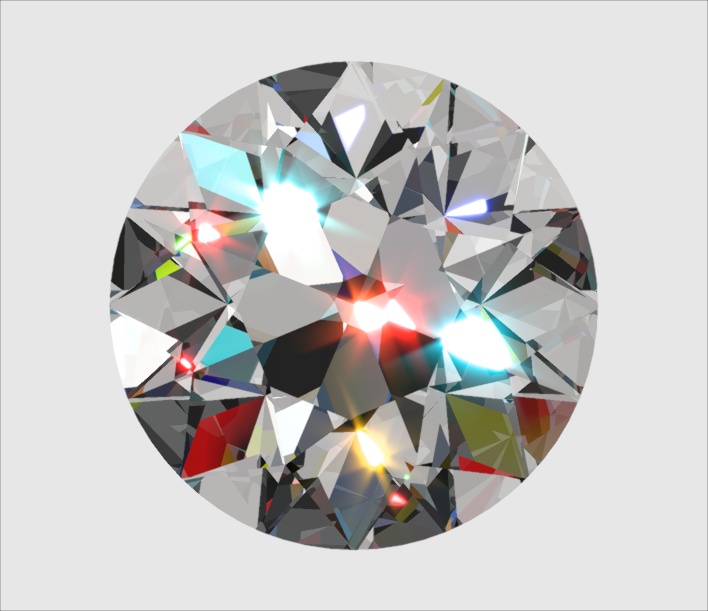 Amora Gem in a stunning, super-ideal antique style Old European cut (OEC).
10/7/19 - We have completely sold out of Amora Gem OEC's.
You may wish to consider our Phoenix Moissanite OEC (https://betterthandiamond.com/products/Phoenix-Moissanite-OEC.html) as we do not expect currently to produce more Amora OEC.
5/24/17: We are pleased to announce the first 1ct AVR's are in stock and available - one month ahead of schedule! We will have more videos and photos once the 8.5mm are ready (first week in June). AVR stands for August Vintage Round, and we are licensing the Super Ideal OEC cut that is the AVR and designed by Jonathan at AugustVintage.com and producing it with our TIGER robots in the Amora Gem.
A few initial images (computer rendered are posted in the gallery for now), and below is a video of the light performance under spotlighting:
To sign up on the notification list and thus be emailed when we restock with an AVR-OEC matching your desired specifications, please sign up here: http://betterthandiamond.com/pages/notify.html
Amora Gem OEC videos:
For those who have wondered how the Amora OEC compares to our best selling Ultra H&A round, GoodOldGold put together this video which shows both the OEC and Ultra side by side in a variety of different lighting situations. (OEC is 1.90ct, D/IF, Ultra is 2.12ct F/VS1):
Our newest studio video showcasing a 2.02ct D/IF OEC Amora Gem:
Amora Gem Details and Info:
The Amora gem is "The Ultimate Gem", and is the first lab gem to surpass diamond by nearly every measure.
Amora gem is a naturally occurring crystal around very large stars, where it occurs as stardust (See Astronomy & Astrophysics journal, April 1988). The Amora gem crystal only grows in extremely high temperatures that would quickly vaporize diamond. Due to the incredibly high temperatures it requires for growth, it is only present on Earth near the Earth's heated core, and it's lack of availability is perhaps one reason that diamond became the most prized gem on Earth.
However, on 11/11/11 the Amora gem debuted alongside the oldest crystals on our planet (Jack Hills Zircon, 4.4 Billion years old) at the Hungarian Natural History Museum in a display entitled "The Oldest and The Newest", and the patent-pending Amora gem will be available to consumers in select countries for the first time in limited quantities in 2013.
Amora lab grown gem compared to Diamond:
10% more Brilliant than Diamond

200%+ more Fire than Diamond

Greater physical stability than Diamond

F color - better color than most diamonds

Greater Purity than Diamond - Atomically, Ethically, Environmentally

Scores significantly better in the 5th C - Cost, oftentimes 40:1 better pricing for comparable color, carat weight and clarity.

Amora Gem is The Ultimate Gem.
Amora lab gem compared to other gems:
More brilliant than Moissanite

Far better color than Moissanite by Charles and Colvard, and absolutely no green tinting in diffuse lighting (D-F Color vs. K-N color)

26.7% Harder than Sapphire

More brilliant than CZ

Harder than CZ
In short, Amora gem is truly the ultimate gem, eclipsing diamond in every measure of optical beauty.
(Note: For additional details, you may also want to read through our 11/11/11 debut presentation on our message boards here - link )
Incredible Robotic Cutting:
Within a given crystal type, cutting controls 98% of the brilliance.
Thus, we have devoted significant resources to modeling, cutting, designing and testing the Amora Gem cuts in order to achieve an optimal and maximal balance between the two competing goals of maximum fire and maximum brilliance for Amora gems unique optical properties. The Amora Asscher design is the final winner of a number of evaluated parameters and proportions and strikes the ultimate balance for both fire and brilliance.
Amora Gem OEC is now Patent Pending in the US, and we have multiple foreign patents in progress.
Additionally, all Amora Gems will be cut *exclusively* by robot, an industry first. Robotic cutting enables super-human precision and incredible craftsmanship compared to hand cutting, as the robot only cuts to optimal proportions and exacting symmetry. This ensures that *every* Amora has unparalleled beauty.
What are the dimensions of the Amora Gem OEC?
| | |
| --- | --- |
| Diameter (mm) | Depth (mm) |
| 6.0 | 3.70 |
| 6.5 | 4.01 |
| 7.0 | 4.32 |
| 7.5 | 4.63 |
| 8.0 | 4.94 |
| 8.5 | 5.24 |
| 9.0 | 5.55 |
| 9.5 | 5.86 |
| 10.0 | 6.17 |