This item is for customers who wish to purchase two of our loose stones and have the stones set as earrings.
Pricing is per pair (two earrings) although we can certainly make a single stud upon request!
Pricing does not include the stones, a pair of appropriately sized round stones must be added to your shopping cart before placing the order.

Our 4 prong Martini style earrings are low-set, highly visible, and simply beautiful.

---
Most of our earring styles are available with two options for the earring backs:

the standard friction back (sometimes termed butterfly back) where the tension of the metal nut holds it in place, and the new Protektor clutch locking system.
The protektor system is put on by squeezing the two clasps on the side and sliding it into place. Release and the the lock springs shut locking it into place.
This is the same style backing used on the highest quality diamond studs. A photo of the locking Protektor style is shown below: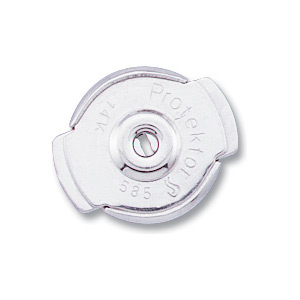 Kindly note that while we can make earrings in most stone sizes, many stone size options will be considered nonrefundable special orders. This is because some stone sizes will be much smaller than anticipated, or because some larger stone sizes may droop on certain earlobes.
If you have questions about a specific style or size of earring not listed here, please contact us for further information.