Stunning Micropave Halo Stud earrings with customizable center stones.
Pricing does not include the center stones, a pair of appropriately sized stones must be added to your shopping cart before placing the order in order to receive a completed pair of ready-to-wear earrings.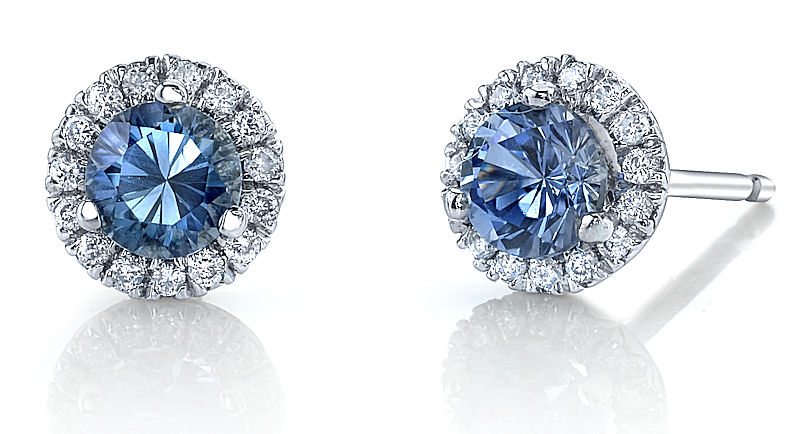 Each earring features 15 natural white diamonds (G/H, SI, well cut) delicately placed around the center, in 14k White Gold.
In order to provide maximum customizability, pricing above is for the earring mounts (pair) with surrounding diamonds and no center.
To purchase ready to wear earrings, simply add two stones of whatever type you wish to your cart and we will automatically set these into the halo studs and ship a ready to wear/gift pair of stunning earrings. There is no charge for the mounting labor.
Optionally, order just the earring mountings above and have your local jeweler set your own diamonds or other stones into the center.
These earrings feature Martini-style mountings in order to fit snugly with minimal droop, and ship with friction back earrings nuts.
Placed in our all-wood earring boxes, these are perfect for use with various types of centers as the surrounding white diamonds provide a 'bed of diamond' to accentuate the center stones.
Due to our sales volume, please allow an average of 15 business days (3 weeks) between placing an order for these earrings and receiving your order.
Please do not send an e-mail to inquire about the status of your order until at least two to three full weeks have passed since order placement.
We do not accept requests or financial inducements to "rush" an order - it does neither of us any good to rush an order and then ship you an item that is less than top-quality workmanship, so please plan ahead and order early.

If you have a special occasion planned that involves your earring order, please specify the date you need the earrings by under the special instructions during checkout - we will do everything we can to make sure you have your order by the date specified.
We hold the right to refuse any order that needs to be delivered within a timeframe we consider inadequate for the satisfactory and high-quality completion of our jewelry.
We will *not* consider any requests to deliver an order by a certain date after your order has been placed.