Amora Eternity "Super Ideal" Hearts & Arrows Round - Give her the very best.
"The Amora Gem is simply amazing in real life!!! I will never purchase another diamond..."
"I am so happy with my decision to get an Amora Gem - a diamond just cannot compare."
"...it does have more fire and scintillation than diamonds!"
"The Amora is Amazing."
- A few examples of customer feedback on Amora Gem H&A
Amora® - More Fire, More Brilliance, More Passion™
Amora Gem is the world's most stunning gem. (Note - you are welcome to view a series of videos comparing Amora Eternity to the world's previous most stunning gem, H&A Diamond here).
Amora Gem surpasses diamond in the essential measures of permanent beauty - brilliance, toughness, fire, and luster.
Further, Amora Gem is also able to match the world's most valuable white diamonds in color and clarity, with up to D color, and Internally Flawless clarity.
The Amora Gem is over one million times rarer than diamond (based on the past 10 years of natural diamond production vs Amora Gem production).
Amora Gem is composed of 50% carbon and 50% silicon, and only grows in star-like conditions that would vaporize diamond.
The Amora Gem crystal naturally occurs around large stars as stardust, but was never available on Earth until now (thanks to seven figures and eight years of research and development).
Amora Gem is grown in a laboratory where the star-like conditions it naturally grows in have finally been replicated on Earth. Thus every Amora Gem is 100% conflict-free and environmentally friendly.
Amoras are each individually graded under the GIA diamond grading scale and priced according to their carat weight, color and clarity.
We do the initial cutting our Amora Gems with our own in-house built TIGER robot system. With <10 micron precision, it is the world's most advanced gem cutting robot. Our TIGER robot is now multi-patent-pending!
(In addition, our robotic cutting facility is now 100% green energy powered from a mixture of primarily wind, but also solar/low impact hydro).
The Eternity H&A thus delivers incredible H&A symmetry and precision including our synchronized 64 facet, vertical faceted girdle so you can enjoy the world's most stunning and most perfectly cut gem, Amora!
Below: a Sarin HD Analysis of a common, mediocre diamond, an H&A diamond and an Amora Gem proving the cutting precision of the Amora Gems. Sarin HD is the only 3D scanner approved by GIA for symmetry grading as it does a facet by facet analysis with extreme precision. (Explanation = "Dev" is "Deviations from perfect" where smaller is closer to perfection. 0.0 would be absolute perfection. You can see the march towards perfection from Diamond->H&A Diamond->Amora Gem).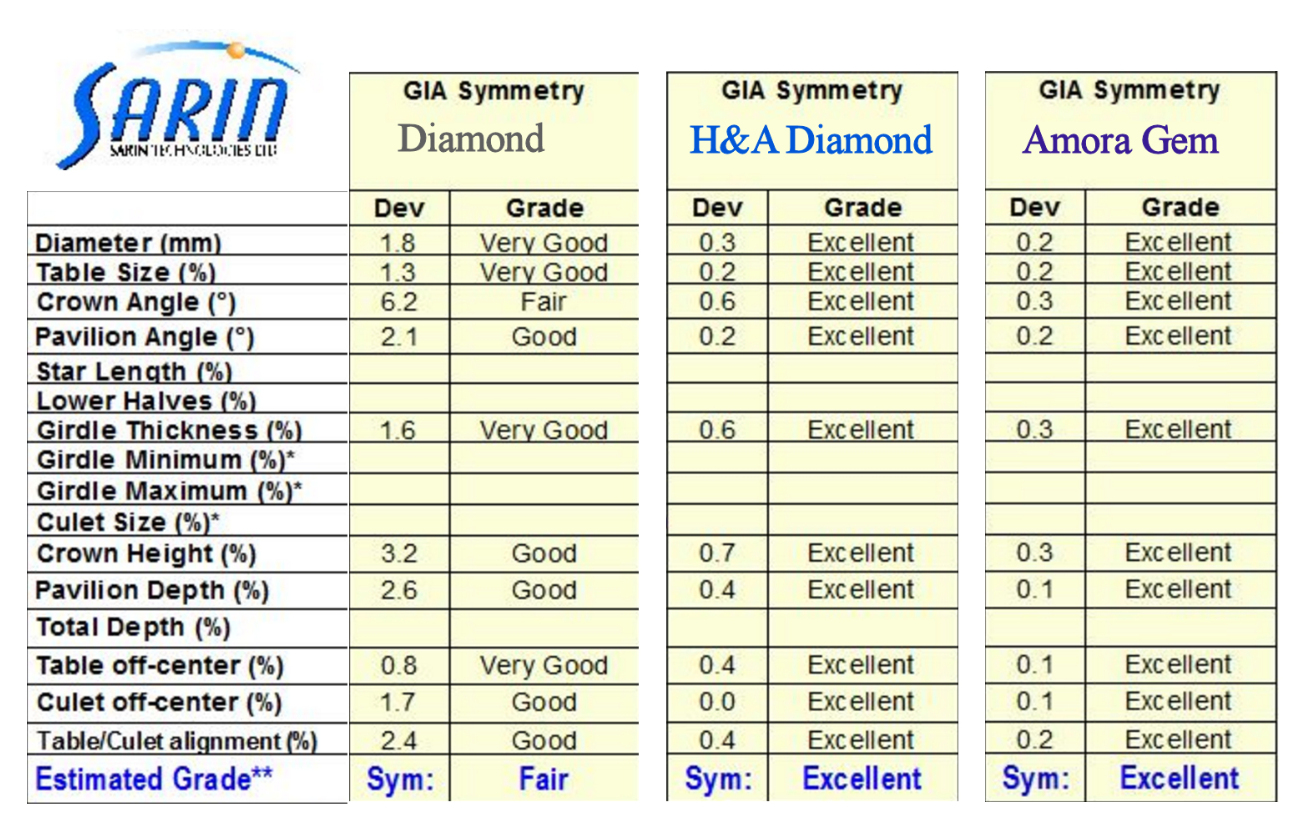 Note that the 64 facet girdle is a time consuming endeavor - this is why it's only done on high end gems like the Amora Eternity H&A, and H&A mined diamonds.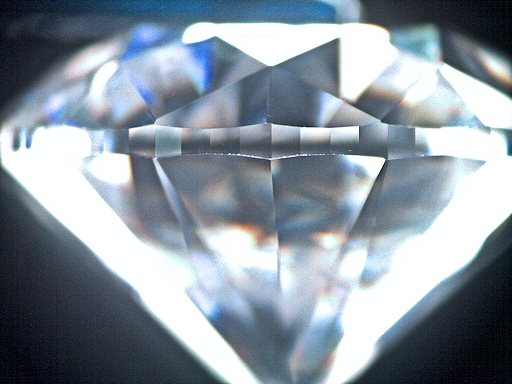 Above: Amora Eternity H&A zoom photo of our 64 facet girdle - same as H&A Diamonds.
CZ, Moissanite, etc. all go the generic "polished" girdle which is quick and easy to do - just polish around the girdle and done. For Forever One Moissanite, the girdle is only 95% polished - the area they will laser engrave is left rough.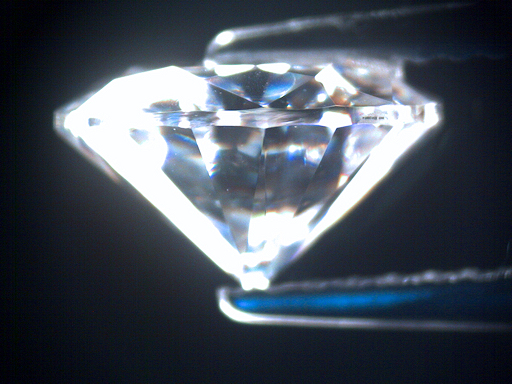 Above: Forever One Moissanite girdle photo - polished girdle only, no faceting. Amora Eternity H&A is the only diamond alternative with a 64 faceted girdle, same as H&A diamonds.
Note that the polished girdle (unfaceted) makes it quick and easy for anyone to simply look at a gem from the side and immediately tell if it's a low value CZ or Moissanite, or a high value H&A diamond or Amora gem. The girdle is extremely telling in that respect, which is why Amora Gem is unique in the diamond alternative market for perfecting every aspect of our Eternity H&A, including a high end 64 facet girdle.
Eternity H&A Cut design - Cut controls 98% of the brilliance:
Our new Eternity H&A Round is the result of using the world's most advanced gem modeling software (currently owned only by the GIA and BetterThanDiamond in the US), and then a month of deep computing simulations using the only stereoscopic modeling system in the world, along with ten years of real-world evaluation of thousands of H&A diamonds (credit to Jonathan Weingarten, AugustVintage.com).
Stereoscopic modeling mimics exactly how you see - which is in fact a slightly shifted left image (left eye), and a slightly shifted right image (right eye) with the final "picture" of a stone being the combination of these images in your brain. Thus, what looks good under standard monoscopic modeling is really only applicable for a cyclops, rather than dual vision humans. As a result, the Eternity H&A was developed and perfected as the ultimate in Fire and Brilliance for the Amora Gem based on stereoscopic human perception. The result is the most firey and brilliant Amora Gem in real life viewing!
The Eternity H&A is the successor to our previous Soaring Hearts & Ultra H&A cut. Note the difference in the Eternity H&A arrows, which are now an optimal medium thickness: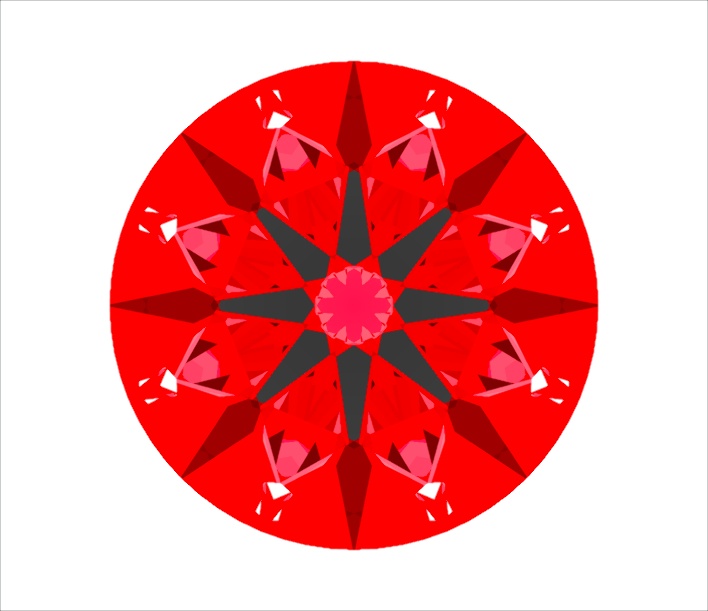 Amora Gem is both patent-pending, and patented!
Independent reviews of the Amora Gem (with comparisons to natural diamonds):
1 - ProsumerDiamonds.com:
Excerpt: "When you buy an Amora Gem, what you're getting is an affordable, durable forever stone that is cut to Hearts and Arrows standard and is brighter and more fiery than a diamond."
Full Amora Gem Review - click to view
2 - GoodOldGold.com review snippet, showing a picture-perfect H&A diamond, an asha and an Amora Gem Ultra under spotlighting:
How does it compare to diamond?
Comparison video with:
2.79ct H/IF Soaring Hearts (left, $1615) vs.2.22ct H&A natural diamond on right (F/VS1, AGS-000, $41,000):
Soaring Hearts H&A Amora vs H&A Diamond in Sunlight from BetterThanDiamond.com on Vimeo.
Gem properties

Diamond

Amora Gem

Atomic composition

99.99% carbon

50% carbon, 50% silicon

Brilliance

(flashes of white light)

2.417

2.66 - 2.71

Fire

(flashes of colored light)

.044

.104+

Hardness

(resistance to scratching)

10

9.5

Toughness

(resistance to chipping, breakage)

Good-Excellent

Excellent

H&A cut

(H&A is the ultimate in round cutting)

Rarely

Always

Conflict-free

(conflict diamonds are diamonds sold by armed groups to fund weapons purchases)

Typically

Always

Graded under GIA diamond standards

Typically

Always

Environmentally friendly

Varies

Always

Rarity

Common

One Million times rarer than Diamond
Value Comparison (Amora Gem, Mined Diamond and Lab Diamond for 2.01ct size)
| | | | | | |
| --- | --- | --- | --- | --- | --- |
| Crystal type | Carat Weight | Color | Clarity | Cut | Price (*3/10/2015) |
| Lab Grown Diamond | 2.01ct | G | VS1 | Excellent | $28,330.95 |
| Mined Diamond | 2.01ct | G | VS1 | Very Good | $26,832.00 |
| Mined Diamond | 2.01ct | G | VS1 | Ideal | $32,476.00 |
| Mined Diamond | 2.01ct | F | VS1 | Hearts and Arrows | $39,491.00 |
| Mined Diamond | 2.01ct | F | VVS1 | Hearts and Arrows | $48,629.00 |
| Mined Diamond | 2.01ct | D | VVS1 | Hearts and Arrows | $60,940.00 |
| Mined Diamond | 2.01ct | D | IF | Ideal | $88,629.00 |
| Amora Gem | 2.01ct | F | VS1 | Eternity Hearts and Arrows | $1,264.19 |
| Amora Gem | 2.01ct | D | IF | Eternity Hearts and Arrows | $2,164.19 |
Customer videos of Amora Gem Ultra:
What exactly is Amora Gem?
Amora Gem is the world's newest gem, a cousin to diamond, and the most brilliant member of the 200+ member silicon carbide family. While diamond is composed of 100% carbon, Amora Gem is 50% carbon and 50% silicon.
For the first time ever in human history, Amora is now available as a gem on our planet. While diamond has previously been the most desirable gem, the Amora surpasses diamond in every aspect of optical beauty and toughness.
You can read read more here regarding what is an Amora Gem?
Is it a naturally occuring crystal?
Yes. While Amora Gem for jewelry use on Earth is grown in a laboratory (and thus avoiding the issues related to mining), it is a naturally occuring crystal that has existed as stardust around large carbon-rich stars for eons, long before our planet was born (see Astronomy & Astrophysics journal, April 1988). The starlight you see in the night sky may very well have sparkled off Amora gem stardust.
Since Amora Gem only grows in conditions that would vaporize diamond — extremely high temperatures such as those around larger stars — it is not naturally found on the Earth like diamond is.
It is only now after eight-plus years of research and development that the star-like conditions required to grow the Amora Gem crystal have been achieved in a lab.
Thus, for the first time in 4.5 billion years since our Earth was formed, Amora Gem is finally available here on Earth to jewelry lovers around the world in very limited quantities.
When were the first Amoras shown and sold?
The first sales of Amora Gem started in July 2013, right here on our website since we are the official maker of this stunning gem. One of the very first Amora Gems was displayed at the Hungarian Natural History Museum as the newest/youngest crystal on our planet. The first larger Amora Gem now graces the finger of a former Miss America.
Why was Amora Gem crystal never available on Earth until now?
Due to the incredibly high temperatures Amora Gem requires for growth - literally star-like conditions, it has never been available as a gem crystal until now. Its lack of availability is perhaps one reason that diamond became the most prized gem on Earth.
The multi-patent-pending Amora H&A lab-grown gem is now available to consumers in select countries for the first time.
How does it compare to other gems?
Click here for an infographic comparing the Amora Gem to diamond, sapphire, cubic zirconia etc.
Media and press coverage:
Business Insider — This gem promises to make diamonds a thing of the past
Wall Street Journal — Amora Gem, Worlds Newest Gem, tests as diamond on many diamond testers (press release)
Quick video of our 2ct and 7ct Amora Gem Ultras (cell phone video):
*Every Eternity H&A Amora Gem comes with a full independent diamond-style grading report.
On average we restock Eternity H&A once per week, typically on Tuesday.
Eternity H&A often sell very rapidly after restocks have been posted.
You may add yourself to the notification list for a specific size, and we will email you when that size is restocked.
Please visit our Notification page here.
We also maintain a separate page which shows our current and expected near term production here - Amora Gem restocking schedule.
Just like most higher-end diamonds, every Amora Gem comes with its own independent grading report, performed under GIA Diamond grading standards, to advise you of the essential parameters of your own Amora Eternity H&A: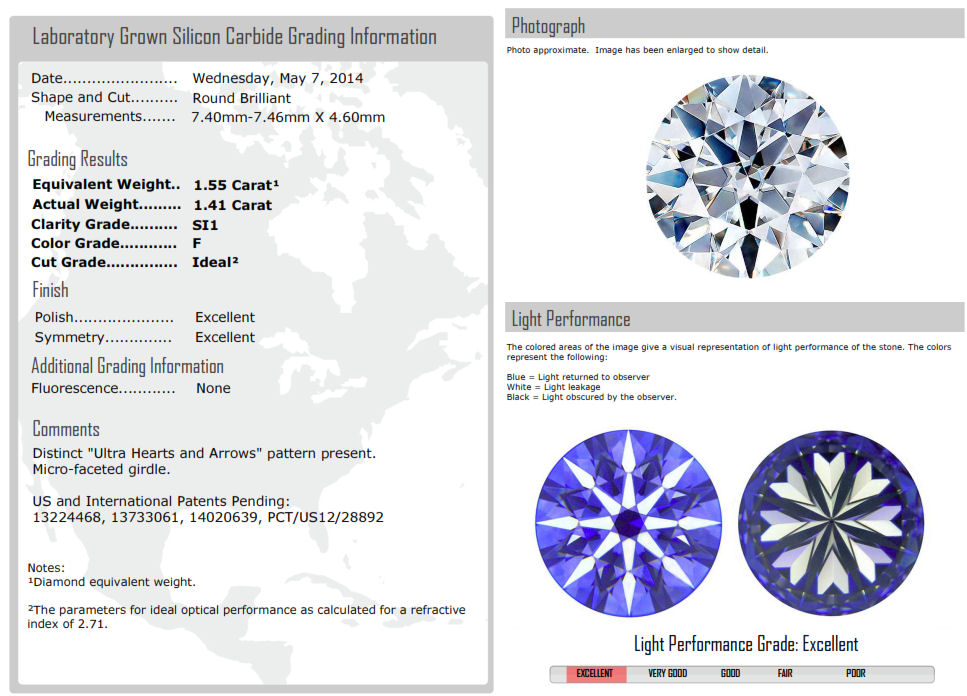 Amora Gems are sold by diamond equivalent carat weight with the price per carat determined by color and clarity.
Base pricing is currently $428.95/ct for F color, VS clarity for Amoras produced after Sept 4th, 2016.
A full detailed price chart showing the discounts and premiums based on color and clarity is available here.
Amora Gem competes with diamond on the basis of its intrinsic properties and beauty — greater fire, greater brilliance, greater luster, greater toughness and 100% conflict-free and environmentally friendly. However, cost is a fifth C beyond Color, Clarity, Carat and Cut, which is certainly another bonus for the Amora Gem Eternity H&A.
Below is a price comparison of various natural H&A diamonds versus Amora Gems, taken from BlueNile.com on May 15, 2014. Note that H&A becomes extremely rare in natural diamonds over 3ct size, so Ideal cuts had to be used after that. You can see the distinct pricing advantage of the Amora Gem when you make exact apples to apples comparisons of color, clarity, carat size and cut. (Note: You may click on the diamond price to jump to the diamond in question to see the details, provided the diamond has not already sold).



| | | | | | | |
| --- | --- | --- | --- | --- | --- | --- |
| Carat Size | Diamond Cut | Amora Cut | Color | Clarity | Diamond Price | Amora Price |
| 1.02ct | H&A | Ultra H&A | F | VVS | | $661.98 |
| 1.04ct | H&A | Ultra H&A | D | VVS | | $1,064.96 |
| 1.25ct | H&A | Ultra H&A | E | IF | | $936.25 |
| 1.25ct | H&A | Ultra H&A | D | IF | | $1,311.25 |
| 1.50ct | H&A | Ultra H&A | F | VVS | | $936 |
| 1.50ct | H&A | Ultra H&A | E | VVS | | $1,086 |
| 1.50ct | H&A | Ultra H&A | D | VVS | | $1,536 |
| 2.01ct | H&A | Ultra H&A | D | VVS | | $2058.24 |
| 2.03ct | H&A | Ultra H&A | F | IF | | $1,317.47 |
| 2.04ct | H&A | Ultra H&A | E | VVS | | $1,476.96 |
| 3.01ct | Ideal | Ultra H&A | F | IF | | $1,878.24 |
| 3.02ct | Ideal | Ultra H&A | D | IF | | $3,167.98 |
| 3.03ct | Ideal | Ultra H&A | E | VVS | | $2,193.72 |
| 3.05ct | H&A | Ultra H&A | D | IF | $286,992(flourescence) | $3,199.45 |
| 4.06ct | Ideal | Ultra H&A | E | VVS | | $2,939.44 |
| 5.04ct | Ideal | Ultra H&A | F | IF | | $3,270.96 |
| 5.02ct | Ideal | Ultra H&A | D | VVS | | $5,140.48 |
| 6.19ct | Ideal | Ultra H&A | D | IF | | $6,337 (6.08ct) |
We provide finished and ready-to-wear rings for all Amora Gems. To order:
1 - Select the Amora Gem you wish to order for your ring, and add it to your cart.
2 - Select a suitable ring from our ring page for round centers here.
3 - Checkout with both the ring and Amora in your cart.
We will set the Amora Gem into your desired ring so you receve a finished, ready-to-wear ring. We split the ordering process into two so you may order the exact Amora Gem you wish for your ring.
What is the most popular ring for Amora Gem Eternity H&A? By far and away the most popular ring customers pick to hold their Eternity is our Timeless Regal ring (which also happens to be our single best-selling ring overall). Details for this ring are here.
Amora H&A lab-grown gem compared to diamond:
More brilliant than diamond

More fire than diamond

Greater physical stability and tougher than diamond

D, E and F color — better color than most diamonds

Hearts and arrows precision — better cutting than 99% of all round diamonds

Greater purity than diamond — atomically, ethically, environmentally

Scores significantly better in the 5th C — Cost, oftentimes 40:1 better pricing for comparable color, carat weight and clarity.

Much, much rarer than diamond. Amora Gem previously only existed around large carbon-rich stars, unavailable to any humans on Earth for over four billion years of Earth's history. Now that Amora is grown in a lab by creating star-like conditions, the total production is a small fraction of the annual mining output of natural diamonds.

Amora Ultra H&A is The Ultimate Gem.
Multi-patent pending, and Patented: Amora Gem is now Multi-Patent Pending in the US, and we have additional foreign patents in progress in China, Canada, India, etc. (US Patent applications include: 13224468, 13733061 and 14020639, and International patent application: PCT/US12/28892). Patented - Australia, 2016100041.
Eternity Hearts & Arrows™ :
Within a given crystal type, cutting controls 98% of the brilliance. Hearts and arrows cutting is the absolute premiere cut for natural diamond, but only 2% or less of natural diamonds are ever cut to this level of optical perfection. Because Amora has much greater brilliance and fire than diamond, the hearts and arrows parameters had to be completely revised and improved for the Amora Gem to account for its superior optics.
In an industry first, all Amora Eternity H&As are cut *exclusively* by robot. Robotic cutting enables super-human precision and incredible craftsmanship compared to hand cutting, ensuring that the Amora Eternity H&A has unparalleled precision and beauty.
Amora H&A gem compared to other gems:
More brilliant than moissanite (Amora GEM is a different crystal with superior optical properties than moissanite). Amora Gem is the most brilliant gem anywhere.

27% harder than sapphire

More brilliant than cubic zirconia

Harder than cubic zirconia
In short, Amora gem is truly the ultimate gem, eclipsing diamond in every measure of optical beauty.
Extensive customer reviews and feedback of the Amora Gem Ultra are on our message boards:
While some reviews are posted on this page under the reviews tab, many customers have posted much more in-depth reviews with photos and even videos on our message boards. Some examples with direct links (click on the left-most title to jump to the review):
Photos & Videos — Ultra Amora Gem: (Excerpt) "This evening, I received my Ultra and am SO incredibly happy with it. ...The Ultra has definitely delivered on its promise and is certainly the most spectacular diamond alternative I've seen, especially given it's colorless quality and immense durability."
My new 7mm round Amora Ultra: "This gem is gorgeous and I love it!"
Received my 6.5mm D IF Amora Ultra! "I went through tons of diamonds of D Color and high clarity grade at Jewelers recently, and this Amora really does look that good. I'm thoroughly impressed."
The above are just some recent examples, but please feel free to peruse and interact with Amora Gem owners globally on our Amora forums here.
(Note: For additional details, you may also want to read through our 11/11/11 debut presentation on our message boards here)
Availability :
Amora Eternity H&A is currently available for sale, but due to high demand and low supply, some sizes are periodically sold out. We are working hard to increase our total production by increasing the number of cutting robots this year.
Note: Currently our Asha H&A round is the best proxy for now if you are waiting for the Amora H&A Gem, as it has similar depth measurements.
| | | |
| --- | --- | --- |
| Carat weight* | Diameter (mm) | Depth (mm) |
| .75 ct | 6.0 | 3.65 |
| 1.00 ct | 6.5 | 3.95 |
| 1.25 ct | 7.0 | 4.26 |
| 1.50 ct | 7.5 | 4.56 |
| 2.00 ct | 8.0 | 4.86 |
| 2.50 ct | 8.5 | 5.17 |
| 3.00 ct | 9.0 | 5.47 |
| 3.50 ct | 9.5 | 5.78 |
| 4.00 ct | 10.0 | 6.08 |
| 4.25 ct | 10.5 | |
| 5.00 ct | 11.0 | |
| 5.50 ct | 11.5 | |
| 6.50 ct | 12.0 | |
| 7.25 ct | 12.5 | |
| 8.00 ct | 13.0 | |
| 9.00 ct | 13.5 | |
| 10.00 ct | 14.0 | |
| 11.25 ct | 14.5 | |
| 15.00 ct | 12.25 | |
* Carat weights are for the approx diamond equivalent of the same size (mm dimensions, or volume, into diamond equivalent). Amora Gem is lighter in weight than diamond and the actual carat weight of the Amora gem on a scale will be normally slightly lower than a diamond of the exact same size.