Amora Gem: Super Ideal Asscher Cut
2020 : our Asscher cut Amora gems are sold out and will not be restocked.

We are adding the Asscher cut as an option for our Phoenix Moissanite, please view our current available inventory for the Asscher cut Phoenix Moissanite here.
Update July 12, 2018 - Due to the high demand for our Amora Super Ideal Eternity H&A rounds, we will no longer be producing the Amora Asscher cut. Thus, the remaining Asschers in inventory are the last chance to own this beautiful Asscher cut gem!
Amora Gem in our stunning Super Ideal Asscher cut. We spent months of effort on modeling, refining, testing and perfecting a Super Ideal Asscher cut in 2017 to fully handle the extreme brilliance of the Amora gem and transform that into a stunning Asscher cut uniquely designed for it.
Note that every Amora Asscher ships with an independent diamond style grading report, verifying it's intrinsic properties (actual color, clarity, etc) as well as cut grading including polish and symmetry. One example of the report is below: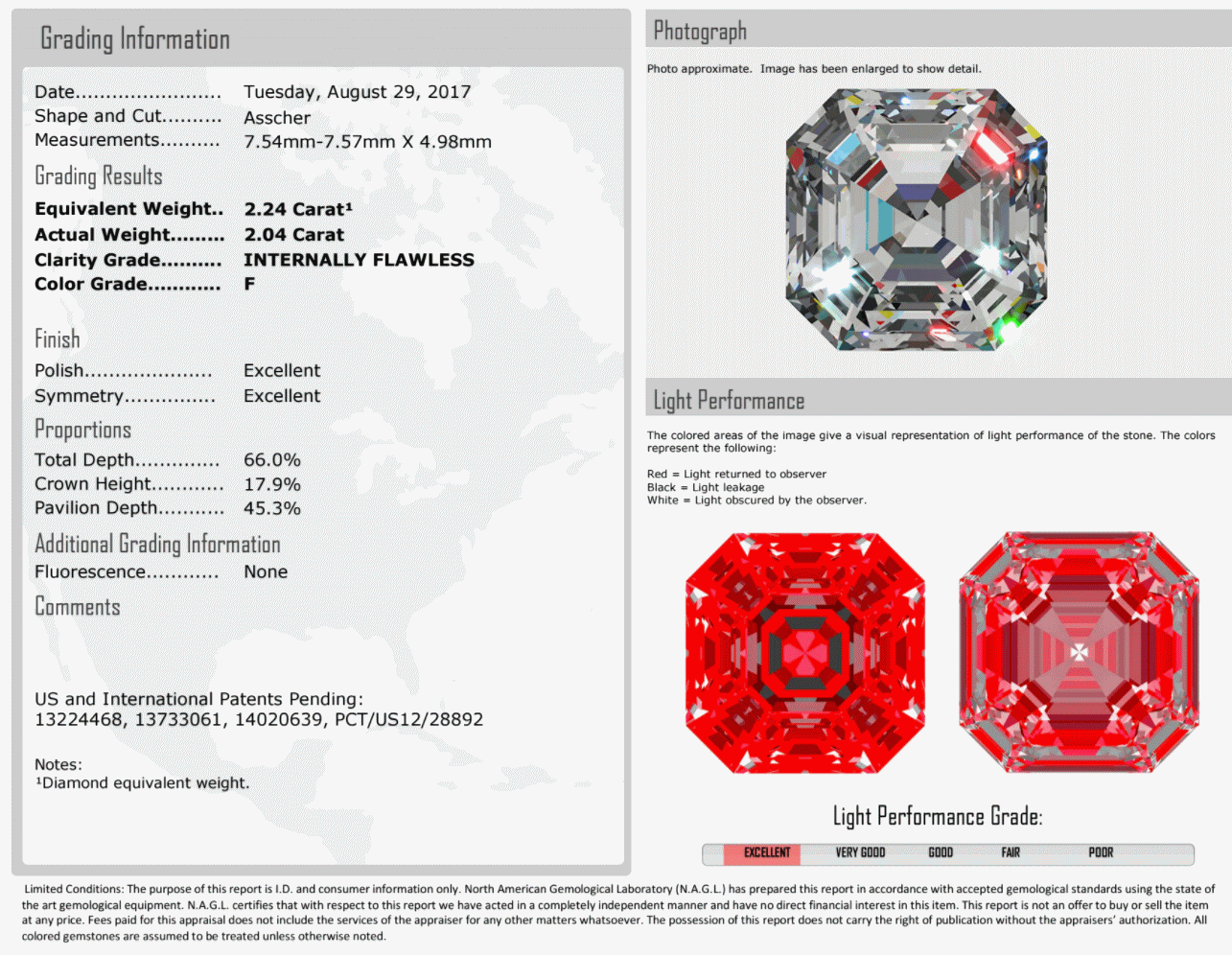 We recommend signing up on the waiting list for fastest notification of all restocks.
If you would like to be notified when an Amora Asscher that matches your specifications is restocked, please sign up via our notification list here.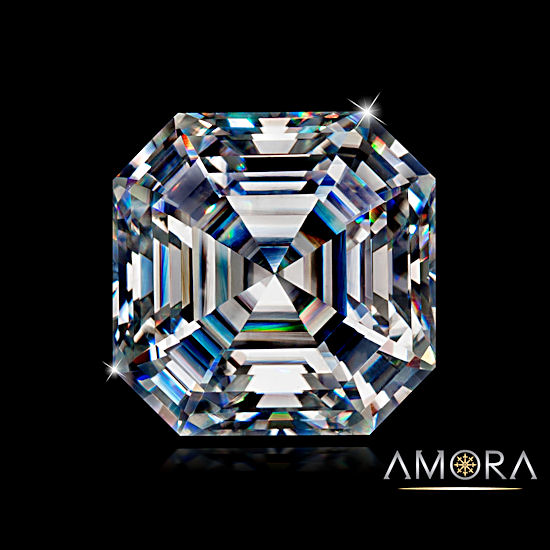 Update November 3rd, 2015: Our newest studio video showcasing a 2.09ct., D/VVS2 Asscher Amora Gem:
We have produced the first 10mm Amora Gems and here is a quick 'cell phone' video direct from our cutting facility to show off their light play. We also have a new studio video available below.
We also have a studio video shown below of the same 10mm Asschers:
Amora Gem Details and Info:
The Amora gem is "The Ultimate Gem", and is the first lab gem to surpass diamond by nearly every measure.
Amora gem is a naturally occurring crystal around very large stars, where it occurs as stardust (See Astronomy & Astrophysics journal, April 1988). The Amora gem crystal only grows in extremely high temperatures that would quickly vaporize diamond. Due to the incredibly high temperatures it requires for growth, it is only present on Earth near the Earth's heated core, and it's lack of availability is perhaps one reason that diamond became the most prized gem on Earth.
However, on 11/11/11 the Amora gem debuted alongside the oldest crystals on our planet (Jack Hills Zircon, 4.4 Billion years old) at the Hungarian Natural History Museum in a display entitled "The Oldest and The Newest", and the patent-pending Amora gem will be available to consumers in select countries for the first time in limited quantities in 2013.
Amora lab grown gem compared to Diamond:
More Brilliant than Diamond

Greater Fire than Diamond

Greater physical stability than Diamond

D -F color available - better color than most diamonds

Greater Purity than Diamond - Atomically, Ethically, Environmentally

Scores significantly better in the 5th C - Cost, oftentimes 40:1 better pricing for comparable color, carat weight and clarity.

Amora Gem is The Ultimate Gem.
Amora lab gem compared to other gems:
26.7% Harder than Sapphire

More brilliant than CZ

Harder than CZ

Independent grading of every Amora under GIA diamond standards. Every Amora ships with it's own independent grading report!
In short, Amora gem is truly the ultimate gem, eclipsing diamond in every measure of optical beauty.
(Note: For additional details, you may also want to read through our 11/11/11 debut presentation on our message boards here - link )
What are the dimensions for the Amora Gem Asscher cut?
| | |
| --- | --- |
| Diameter (mm) | Depth (mm) |
| 6.0 | 4.02 |
| 6.5 | 4.36 |
| 7.0 | 4.69 |
| 7.5 | 5.03 |
| 8.0 | 5.36 |
| 8.5 | 5.70 |
| 9.0 | 6.03 |
| 9.5 | 6.37 |
| 10.0 | 6.70 |