Our Phoenix H&A cut Moissanite, in stunning 4 prong martini white gold stud earrings! Order today, wear tomorrow*! (Free overnight shipping to US addresses included).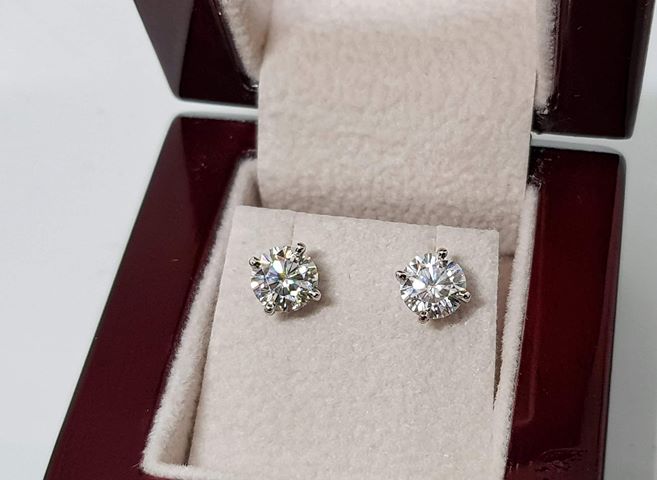 These are a classic style with exceptional brilliance and sparkle. Perfect for everyday fashionable wear, with fire and brilliance that exceeds CZ, and other not as well cut Moissanite gems.
These are all colorless (E-F color), VS+ (VS-VVS on average), H&A cut Phoenix Moissanite, set in our 4-prong Martini style earrings, with locking Protektor backs, in 14kt white gold.
Unlike our Amora Eternity, which is optimized for maximum beauty, the Phoenix is our best value brand maximizing both value and beauty. (Difference - no faceted girdles, no independent grading, no nano-polish, and H&A cut rather than Super Ideal H&A, bulk growth rather than ultra pure growth).
Above: Phoenix 9mm H&A in the sunlight.
Order today, wear or gift tomorrow? These are our "Phoenix Overnight Earrings" which is our inventory of ready to ship earrings that are shipped overnight allowing you in many cases to order today, wear tomorrow.
We have more sizes available if you are able to wait a week or two after ordering, or if shipping to an address outside of the US, please see our regular Phoenix H&A earrings page here.
If you are after the *Ultimate* in beauty, then please visit our Amora Eternity Overnight earrings page here.
*Limitations for overnight / next day arrival = Orders have to be in by 10AM, Pacific Standard Time, Monday - Thursday, and shipping to US address.