Asha Emerald
Rating:

( 3 product reviews )
Shipping:
Calculated at checkout
---
Product Description
Asha® Emerald Simulated Diamond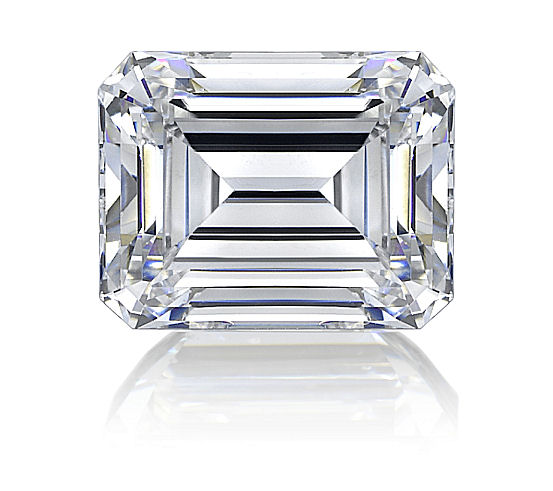 Studio Photo: Version 6 Asha Emerald
This cut has received a significant amount of compliments from other jewelry professionals as to its incredible diamond-like look.

Our Asha® Emeralds are cut to optimal specs, ensuring a flawless diamond look.

Asha® Emerald Highlights:

Precision:
Optimal specifications for cutting, ensuring crisp, clean lines and understated elegance

Free 2 day UPS Shipping for US delivery on orders over $300
You will be pleased or a full refund will be promptly issued:
See our satisfaction guarantee here - you must be thrilled with your purchase, or we will gladly return your funds.
Here is the market price for natural diamond Emerald cuts (E color, IF) to compare with the pricing on our Asha® Emerald cut.

1.05 ct: $8,500
3.10 ct: $56,608

We can set your Emerald cut Asha into the following rings: our Timeless Tapered Baguette, Timeless Micropave Cathedral (2.5mm or 3mm), our Timeless Sophisticate, our Emerald Tiffany Solitaire, our Tiffany Cathedral, our Micropave Cathedral (2 row or 3 row), and our Tiffany-style Classic. When you order a ring and a stone within the same order, we will set your stone free of charge.
Sample Asha Emerald Grading report: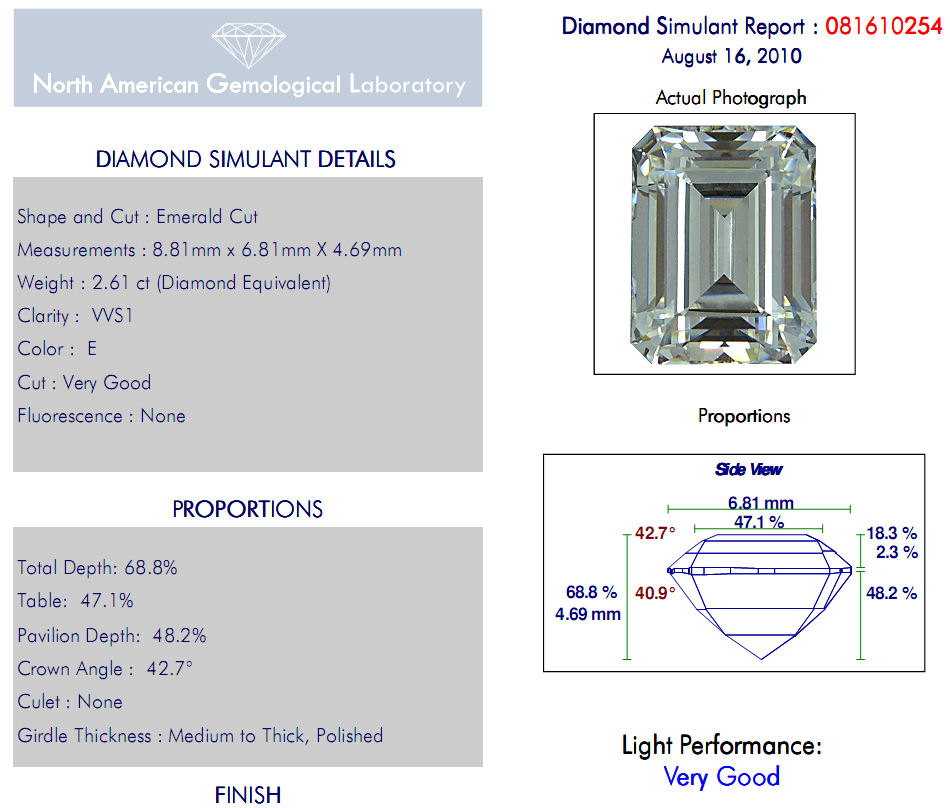 Other Details
7.5x5.5mm diameter:
3.6mm depth
8x6mm diameter:
3.9mm depth
8.5x6.5mm diameter:
4.3mm depth
9x7mm diameter:
4.6mm depth
---
Find Similar Products by Category

Product Reviews
Still beautiful after all these years

Posted by Rhode Island Redhead on 11th Sep 2011

I first stumbled upon BTD back in 2003 or 04. We had saved some money for my engagement ring, saw this site, then I ordered this and the radiant cut in version 5 E color. I have to say that the emerald cut is my favorite by far, although I got it in the Emerald Tiffany Setting, which I'm not 100% pleased with since I can't wear my wedding band next to it, which we had already purchased months before, so I have to wear it all by itself. But the stone is so beautiful and every time I wear it, its like I just got it because I can't take my eyes off of it!! I turn it this way and that way when I'm sitting in the car at a stoplight in the sunlight, or casually put my hand out the window so I can glimpse it in my rearview mirror and see that sparkle in the reflection. I stare at it all the time!!! I JUST can't take my eyes off of it!! Oh, its so beautiful! I especially love that its an E color since I wouldn't be able to afford even a 1/2 carat emerald cut in J color so I feel happy about that. I got it in the 2.10 carat weight and its the perfect size for me and my hand. It looks believable, and no one questions it. They just say its beautiful and I'm lucky. I'm always wondering why more women don't like this cut. Its my favorite cut and when I got engaged we looked for emerald cuts but the first emerald cut we looked at was a one carat with a chip in the middle of it and the jewelers had the audacity to ask $4,500 for it, and my husband just turned around and walked out of the store, leaving me standing there, and that was the end of our looking for rings. Luckily, I discovered this site before they raised their prices of gold and I could afford the rings and I got my dream emerald cut. Just wanted to say that BTD is the best, the Asha's are the best and have gotten me spoiled. No other diamond simulant can hold a candle to Asha. I LOVE MY EMERALD CUT!!!!!!!!!

---

Happy Owner

Posted by Unknown on 25th Jul 2010

I'm the very very happy owner of a 2 ct. emerald cut ring. It is absolutely gorgeous and I'm so happy to have exactly what I've always dreamed of without wearing the equivalent of a car on my hand. Thank you so much for the joy you've provided

---

Proud owners & skeptical no more

Posted by Unknown on 23rd Jun 2010

My Husband and I would like to express our gratitude for your company and product. We have been researching, shopping for, and reading about Emerald cut diamonds for some time which is why we decided to give BetterThanDiamond, Inc. a try. As you know, a 2.10 excellent quality Emerald would have cost us upwards of over $23,000. We only wanted the best and decided not to settle for anything less. We had resolved ourselves to the fact we could not have what we truly wanted because of the price range of what our "dream" diamond was. Then, we had the great fortune of happening upon your website while browsing.

My husband I are now the proud owners of an absolutely exquisite 2.10 ct Emerald cut Asha® Diamond and we owe that to you. We have spent hours studying the stone actually *trying* to find something wrong with it or evidence that it is a simulant. Today is a cold, winter day in Indiana, but the sun is extremely bright . I have held the stone in direct sunlight and am amazed at the range of brilliant, rainbow-spectrum colors it produces. This is evidence of a well-cut emerald. The symmetry is exceptional as well, which is of paramount importance to us.

It was crucial to my Husband and I that this stone look as natural and perfect as an actual diamond. We were very skeptical before receiving your product as we are card-carrying, flag waving, die-hard diamond lovers and like to fancy ourselves to be somewhat "amateur connoisseurs".

Now that we have received the Asha Emerald cut stone, we know that there is absolutely no way anyone will ever be able to tell this is not a genuine diamond. We will be successful in "passing it off" as a natural diamond and that simply amazes and pleases us to no end.

We cannot adequately convey our gratitude in words, but hope this will suffice.

Your company and product are simply outstanding and have offered this modest-salary Midwest couple, who happen to adore diamonds, the opportunity to be something special in a "sea of ordinary".


---
Customers Who Viewed This Product Also Viewed