Asha Oval
Rating:

( 2 product reviews )
Shipping:
Calculated at checkout
---
Product Description
Asha® Brilliant Oval Diamond Simulant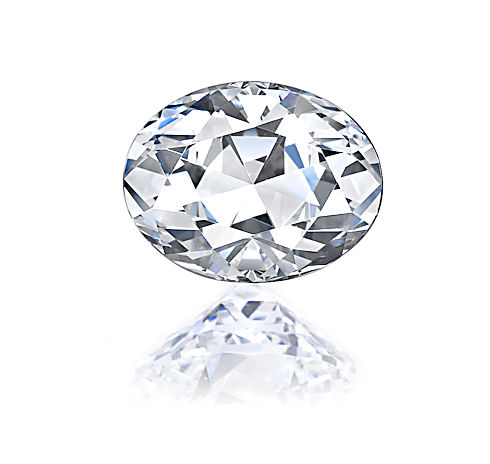 Oval Asha, version 6 studio photo
We have received a number of requests to bring back our oval cut Asha, and are pleased to announce that we done just that. Based on knowledge gained in cutting our Takara yellow diamonds, we will be cutting our Asha ovals to a modified oval cut - the Asha Oval Brilliant.





This adds additional faceting to the underside of the oval to remove the dreaded 'bow-tie' (optical dead zone) in the traditional oval cut. Thus, while this cut is not as common in natural diamond, it does make for a much more beautiful and sparkly finished 'diamond'.




Asha® Oval Highlights:

Cut for brilliance:
Optimal specifications for cutting, maximizing the inherent beauty of the oval cut.

Free 2 day UPS Shipping for US delivery on orders over $300



You will be pleased or a full refund will be promptly issued:
See our satisfaction guarantee here - you must be thrilled with your purchase, or we will gladly return your funds.
We can set your Oval cut Asha into the following rings: our Timeless Tapered Baguette, our Micropave Cathedral (2 row or 3 row), our Tiffany Cathedral, and our Classic Tiffany.

When you order a ring and a stone within the same order, we will set your stone free of charge!
Other Details
6x4mm diameter:
3.5mm depth
7x5mm diameter:
4.2mm depth
9x7mm diameter:
5.5mm depth
10x8mm diameter:
6.2mm depth
11x9mm diameter:
6.9mm depth
12x10mm diameter:
7.5mm depth
---
Find Similar Products by Category

Product Reviews
Beautiful 9x7 mm

Posted by Laurie on 18th Apr 2012

I ordered this because I didn't want to spend a lot on a ring, but wanted something pretty (and bigger than what I had.) This is my upgrade and I love it!!!

---

GORGEOUS!

Posted by Unknown on 5th Sep 2011

Just received my Asha from my fiancee and it is more beautiful than I expected it could be. Set in Tiffany Cathedral, 4 prong ring- I LOVE IT!

---
Customers Who Viewed This Product Also Viewed