Product Description
Asha Fancy Yellow, Loose Round cut
Stand out from the crowd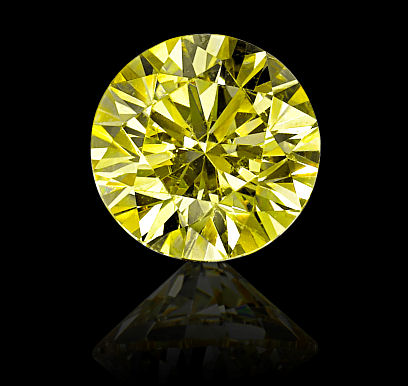 Asha Fancy Yellow Round, showing its brilliant beauty
---
We've worked hard to ensure our yellow Asha rounds are the most natural looking Canary yellow diamond simulants available. Combining a pure even yellow saturation along with our highly regarded amorphous diamond-infusion process, the result is a yellow that stands apart. In keeping with yellow natural diamonds, we have cut them to premium round specifications.
A note about Natural yellow diamonds: Natural yellow diamonds are quite rare, with some experts noting that there is roughly 10,000 white diamonds to every 1 yellow diamond. Thus, yellow diamonds have become a favorite among the jet-set crowd as a further way to set themselves apart from the ordinary. Fancy Intense yellows of larger sizes can command prices up to $20,000/ct. Just something to keep in mind if you are not planning to reveal the source of your new 'canary diamond'. Please note that this page is for our Asha Diamond Simulant yellows. For true lab grown yellow diamonds, please see our Takara website here.
The clarity and polish on these are all top notch - internally flawless clarity and excellent polish.
Other Details
7mm diameter:
4.5mm depth
7.5mm diameter:
4.6mm depth
8mm diameter:
5.1mm depth
---
Find Similar Products by Category
Customers Who Viewed This Product Also Viewed