Our Timeless Halo Micropave ring for Rounds
Sophisticated style, timeless beauty
Designed by
Christine Wright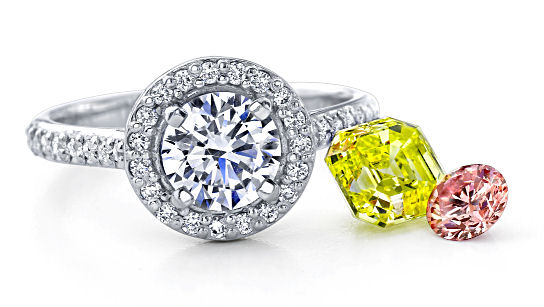 Our Timeless Halo Ring with Center Asha
(Takara Yellow and Pink Diamonds not included :)
---
"I'd just like to tell you that my ring arrived yesterday and it is beautiful, even better than than I imagined it would be. ...it is gorgeous and all you can see is diamonds.
I looked for months to find the perfect setting for my 1.03ct diamond, even in bespoke jewellers in my area but I'm so happy that I chose to use your company because the Halo ring was exactly what I wanted but cost so much less. I was quoted £895+ (approx $1750) by jewellers in my area, but I ended up paying half of that so Im really pleased. It also fits really well too."
- Customer Testimonial

---
Our micropave halo ring is one of the most stunning rings you will find, anywhere. We are proud to note that this ring was selected by Miss America 2010 for her own wedding set.
This ring was painstakingly developed, entirely in-house, using our top-of-the-line, CAD-design system and took 5 months to perfect (design, cast, set, review... repeat until perfect).
The result of this effort shows in the beauty of the Halo ring. Computer precision ensures exacting alignments, showing maximum diamond and minimal metal. Continuous refinements during development ensure comfort and ease of wear.
The 37 individual white natural diamonds are precisely arranged to serve as the ultimate backdrop to the 1ct center, version 6 Asha or for your own center diamond.
Besides beauty, we added other important details like a comfort-fit shank, a curved base to to the basket, and set the center low (only 1mm higher than the center stone). This was to ensure the ring not only looked stunning, but is both comfortable and practical to wear.
Further, because we made this ring entirely in-house, there is no middle man adding their own markup along the way, which allows us to price our Timeless Halo ring at far less than you will find at any retail store while still offering extremely high-end quality.
If you are looking for a ring that offers outstanding comfort and beauty, and sparkles from every angle, our Timeless Halo ring should be near the top of your list.
News - Matching band now available: Due to your feedback, we have added a new matching wedding band. Details here.
Timeless Halo Ring Details:
Natural diamond details:
37 total diamonds (1ct center)

each diamond is a .0075ct F-G, well-cut VS clarity natural white diamond (machine cut for precision)

19 diamonds surround a 1ct center, 18 diamonds on the shank (9 on each side)
Sizes available:
We currently have Halo rings for rounds in the following center stone sizes:
5mm


6mm


6.5mm

7mm

7.5mm

8mm

9mm



When ordered in Platinum or Palladium, our Timeless Halo Micropave Ring is among the only rings available in the world that are 'High Pressure Enhanced' after casting.
This cutting edge high pressure process causes densification to the platinum and palladium yielding a finished ring up to 20% harder than normal platinum or palladium!
The result is crisper polishing and a longer lifetime of beauty.
More details including comparison photos are on our High Pressure Enhanced page here.
________________________________________________________
Detailed Measurements:
Width, top: 2.05mm
Width, bottom: 2.05mm
Thickness, top: 3mm
Thickness, bottom: 1.08mm
Height of stone off of finger: A 6.5mm round sets 5.25mm high.
________________________________________________________________
Due to our sales volume, please allow an average of 15-20 business days (3-4 weeks) between placing an order for this ring and receiving it. Please do not send an e-mail to inquire about the status of your order until at least two to three full weeks have passed since order placement.
We do not accept requests or financial inducements to "rush" a ring order - it does neither of us any good to rush a ring and then ship you a ring that is less than top-quality workmanship, so please plan ahead and order early.

If you have a special occasion planned that involves your ring order, please specify the date you need the ring by under the special instructions during checkout - we will do everything we can to make sure you have your ring by the date specified.
We hold the right to refuse any order that needs to be delivered within a timeframe we consider inadequate for the satisfactory and high-quality completion of the ring.
We will *not* consider any requests to deliver a ring by a certain date after your order has been placed.