Please note that we will not be offering any more Amora Enhanced Moissanite.
Please see our successor product instead - Amora Gem Ultra H&A.
"I really feel like I won the lottery with this stone. It is just so pretty!
I can't believe it is mine and that moissanite has come this far...."
- Customer Feedback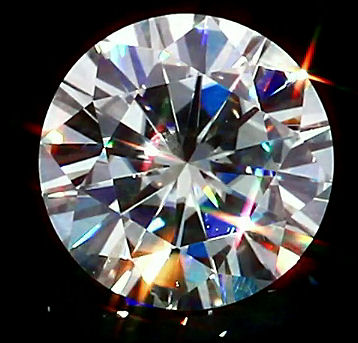 Amora Enhanced Rounds: Moissanite, Perfected
*The whitest Moissanite available - G-H-I color
*The only Moissanite that is Independently color graded and certified at an independent diamond grading lab with former GIA graders.
*Pre-screened for cut quality with over 50% rejected. (see examples of pass/fail stones from pre-screen below)
*1.5% Harder than regular Moissanite = even more durability for a lifetime and beyond.
Please note that we will not be offering any more Amora Enhanced Moissanite. Please see our successor product instead - Amora Gem Ultra H&A.
We are also pleased to announce that we have been successful for the first time ever in achieving H color in the 9mm round size. This shows the ability of our new equipment as this has never been accomplished before.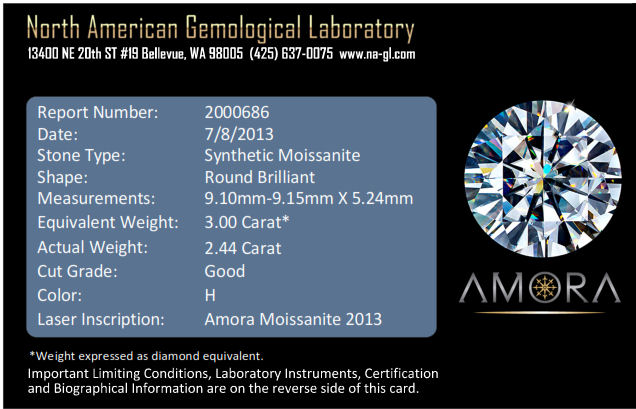 When nothing but the most brilliant round (~9% more brilliant than diamond) can exemplify your love, then look no further than Amora Moissanite. Amora Moissanite is The Whitest and Brightest Moissanite available.
Amora Moissanite is the first true "H color" Moissanite available anywhere (becomes I after 8.5mm - 9mm) for center stone sizes 7mm and higher. We back that claim with independent color grading and certification for *every* Amora enhanced Moissanite 6mm and larger.
Raw moissanite (what is sold everywhere now as "moissanite") is K color (per GIA, K color is 'faint color') or worse for 7mm and higher.
If anyone claims differently, ask them why they don't offer an independent grading report for their 'near colorless' moissanite.
Amora Enhanced Moissanite is created by the following process:
1 - Raw moissanite rounds from Charles and Colvard are filtered to ensure no excessive green tint or poor cutting (this results in 40 - 65% being rejected...with the rejection % increasing the past few months for new pre-screened stones)
Note - here are two photos illustrating what is rejected due to cutting...the difference is fairly obvious and unfortunate that Moissanite cutting quality is so low:

Indirect lighting:

2 - Raw moissanite is then transformed, with our own unique equipment, to substantially improve, at the atomic level, the color of the Moissanite.
The improvements permanently transform it into a more perfect Moissanite (perfect Moissanite is colorless for reference) and thus create an Amora enhanced. This transformation is somewhat analagous to HPHT when done for diamond (turns brown diamonds clear), and the visual improvement can be startling - 7mm and larger Moissanite's go from K/L color to H color (faint color to true near-colorless).
4 - The Amora Moissanite undergoes a final independent inspection at a diamond grading lab to prove its final color grade.
5 - In addition to the improved color, testing at a major university found that the hardness of the Amora Moissanite is typically 1.5% harder than regular Moissanite. Testing was conducted using an MTS nanoindenter.
All Amora enhanced Moissanite ship with laser engraving, and sizes over 6mm with an independent color grading report.
Price comparison (Diamond = H color, VS, Good+ Cut. BlueNile.com):
| | | | |
| --- | --- | --- | --- |
| Carat Weight | Amora Enhanced Moissanite | Diamond | Difference |
| 1.00ct | $455 | $6,264 | 13 Amora or 1 Diamond |
| 1.50ct | $745 | $13,815 | 18 Amora or 1 Diamond |
| 2.00ct | $995 | $21,148 | 21 Amora or 1 Diamond |
| 3.00ct | $1,479 | $53,930 | 36 Amora or 1 Diamond |
| 4.00ct | $1,989 | $103,510 | 52 Amora or 1 Diamond |
All Amora over 6mm will come with laser engraving and independent grading report. All Amora are always laser engraved, no exceptions.
Example Certs: