Our Amora Gem Ultra H&A cushions in a very unexpected (but attractive) very light blue color tinting. (For details on our H&A cushions, please see our white Amora Gem H&A cushion page).
Please note - this is a very limited offering.
Below is a studio photo. However please note that the more intense the light, the more the light blue is visible.
These can appear quite white in many lighting environments.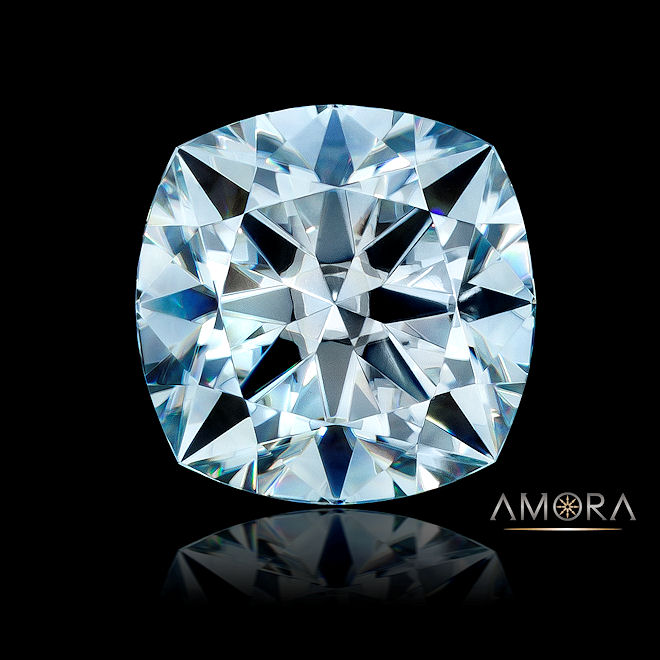 Studio video:
Please note - these Amora Gem Ultra H&A cushions are still quite white face-up. They are effectively near colorless (G-H) color whites face up, that have a body modifier of pure, pale blue rather than the typical yellow tint.
The pale blue tinting is more visible from the side and back of the stone - due to Amora Gem's unsurpassed brilliance, the face up color is diluted due to the high brilliance.
The faint blue tinting will be more and less visible depending on the lighting scenario that it is in. At first glance, however, most people will simply view it as a white near colorless gem unless they view the underside or look more closely at which point the blue can be detected in some facets face-up.
Diamonds are color graded on the back of the stone, and thus why these were independently graded as Fancy Light Blue.
Why do they have the blue tinting?
The blue is from the crystal structure itself causing the blue due to an effect known as Rayleigh scattering (the same reason the sky is blue). Regardless - the blue tint is native to these Amora Gem's and is not a coating...rather it's atomically part of the Amora Gem. We don't know why some Amora's will grow with this effect built in. They have been tested under high precision scientific testing for any impurities and none have been found, confirming it is due to the the way a few Amora Gem's grew during the growth process.
Are these Very Light Blue Amora's fluourescent?
Per the NAGL grading report, these are not fluourescent gems. (Listed as None on the grading report).
Pricing:
We are currently pricing these at the base Amora Gem pricing of $628/ct, with standard clarity modifiers:
VS: $0 change
VVS: +$25/ct
Internally Flawless: $50/ct
Future availablity?
These blue tinted Amora Gem's were not intentional but rather a surprise to us. We are still researching how this occured, but the net is that we do not know (and currently do not plan) to make more.
Thus, these are are a very limited offering.