Asha® 4-prong "Martini" Stud Earrings
Low-set, highly visible and simply beautiful

Asha 4-prong Martini studs


Click to enlarge:

---
---
Our Martini studs offer three distinct advantages over other stud earrings:
Setting virtually disappears, leaving the focus entirely on the beauty of the center stone.

Setting recesses into pierce hole, making the center Asha® sit very low

Eliminates or dramatically reduces earring 'droop'
Martini Backing system: In order to hold the earring in place, a nut or back must be used. We offer two options - the standard friction back (sometimes termed butterfly back) where the tension of the metal nut holds it in place, and the new Protektor clutch locking system. The protektor system is put on by squeezing the two clasps on the side and sliding it into place. Release and the the lock springs shut locking it into place.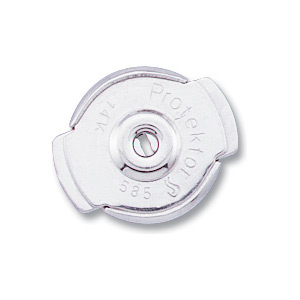 Most popular size? Our 2.00ctw is our best-selling size.
Due to our sales volume, please allow an average of 15-20 business days between placing an order for these earrings and receiving your order.
Please do not send an e-mail to inquire about the status of your order until at least two full weeks have passed since order placement.
We do not accept requests or financial inducements to "rush" an order - it does neither of us any good to rush an order and then ship you an item that is less than top-quality workmanship, so please plan ahead and order early.

If you have a special occasion planned that involves your earring order, please specify the date you need the earrings by under the special instructions during checkout - we will do everything we can to make sure you have your order by the date specified.
We hold the right to refuse any order that needs to be delivered within a timeframe we consider inadequate for the satisfactory and high-quality completion of our jewelry.
We will *not* consider any requests to deliver an order by a certain date after your order has been placed.