We will not be restocking this item and have none remaining in inventory.
Instead please see our Amora Gem which is available in an OEC (Old European Cut).
Please note - Charles and Colvard has discontinued the OEC cut.
These are the last FB OEC we will be able to offer, and this product will be discontinued after our current inventory sells out.
With C&C's patent on Moissanite expiring next year, we will not be restocking our certified Forever Brilliant Moissanite, and all remaining inventory has been reduced in price.
Due to long delays with our Amora enhanced Moissanite production and a very long waiting list, we are now offering a limited number of independently pre-screened and graded Forever Brilliants for those who are unable to wait for an Amora enhanced Moissanite. Please note that these will not be restocked so once they are gone, we will no longer offer these for sale as it is a limited offering.
By applying pre-screening and independent grading, up to 80% of regular Forever Brilliants are rejected due to poor cutting or excessive tinting, and are not sold under our certified program.
Thus, we can assure you that you are purchasing the 'best' available Forever Brilliants, along with an independent grading report to validate it.
These certified Forever Brilliants are sold at the minimum allowable price for Forever Brilliants and include pre-screening, grading and certification.
Each one ships with an independent grading report for cut and color. This eliminates the 'luck of the draw' effect common with Moissanite with no independent grading/certification.
These are all 'new' rough from Cree (also termed 'FB2' for 2nd generation Forever Brilliants), and screened to ensure that only 'Good' cuts are offered.
We eliminate any green tinted stones during the pre-screening and grading.
The majority of rejected Forever Brilliants are 'fair cut' - we only allow 'Good' cut's for our certified Forever Brilliant OEC's.
We do not offer these 'fair cuts' for sale under this certified program, they are returned to the distributor.
Below is an example of the grading report that ships with our certified Forever Brilliants: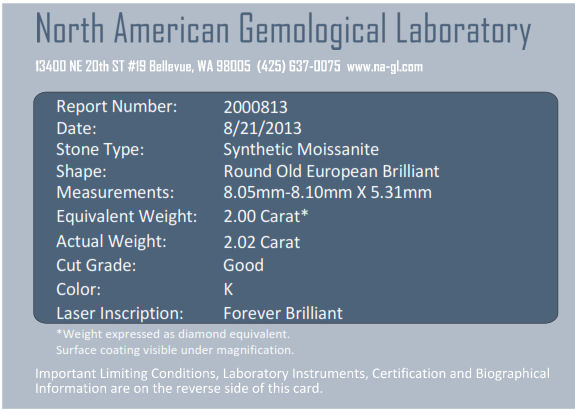 Your purchase will ship with the independent grading report, the Forever Brilliant stone, and the Charles and Colvard certificate of authenticity and limited warranty.