Designed to feature a round center stone in sizes from 6.5mm up to 8.5mm, our Timeless Milano Halo features a natural diamond halo (24 - 26 x 1.10mm, depending upon the center stone size) surrounding the center stone.
On each side, surprise diamond accents beneath the center stone (2 x 1.60mm) further provide sparkle and beauty from every angle.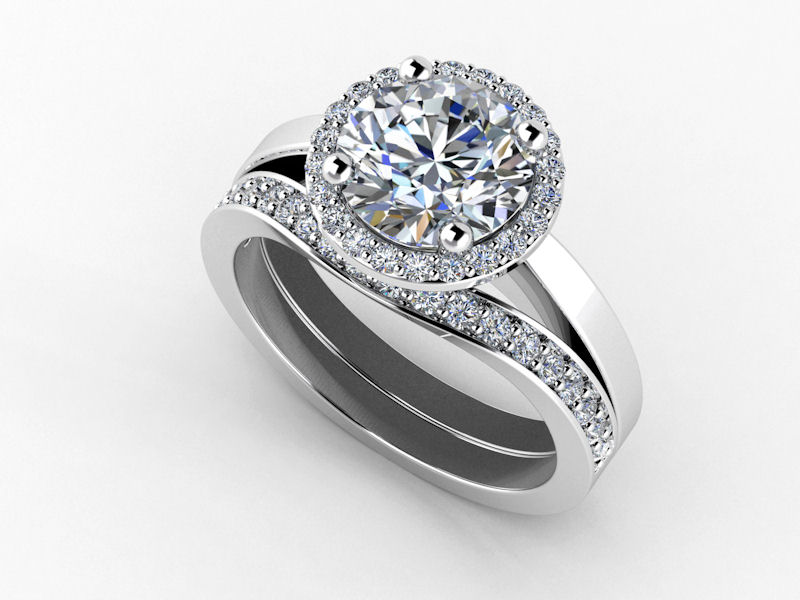 In total, the Milano features .17ctw of natural, top grade white diamonds (F/G color, VS clarity).
The Milano ring also has a matching wedding band which can be used to order a complete wedding set with one or two bands - Timeless Milano band.
Available in platinum, and can be made in palladium by special order.
Our Timeless Milano Halo Ring is available in platinum, but can be made in palladium by special order, and is among the only rings available in the world that are 'High Pressure Enhanced' after casting.
This cutting edge high pressure process causes densification to the platinum and palladium yielding a finished ring up to 20% harder than normal platinum or palladium!
The result is crisper polishing and a longer lifetime of beauty.
More details including comparison photos are on our High Pressure Enhanced page here.
Comfort fit shank.
________________________________________________________________
Measurements:
Width, top: 1.85mm
Width, bottom: 1.9mm
Thickness, top: 3mm
Thickness, bottom: 1.55mm
Height of 7mm round stone off of finger: 5.3mm
________________________________________________________________
Due to our sales volume, please allow an average of 15-20 business days between placing an order for this ring and receiving it. Please do not send an e-mail to inquire about the status of your order until at least two to three full weeks have passed since order placement.
We do not accept requests or financial inducements to "rush" a ring order - it does neither of us any good to rush a ring and then ship you a ring that is less than top-quality workmanship, so please plan ahead and order early.
If you have a special occasion planned that involves your ring order, please specify the date you need the ring by under the special instructions during checkout - we will do everything we can to make sure you have your ring by the date specified.
We hold the right to refuse any order that needs to be delivered within a timeframe we consider inadequate for the satisfactory and high-quality completion of the ring.
We will *not* consider any requests to deliver a ring by a certain date after your order has been placed.