Our top selling Regal ring but with a dazzling array of gracefully tapered micropave diamonds on both sides of the shank.
The Regal Micropave ring is now available for center stone sizes 6.5mm - 10mm.
The Regal features 40 natural VS/F color diamonds, fully matched, for a total of .56ctw.
The diamonds range from 1.50mm down to 1.20mm, as shown below: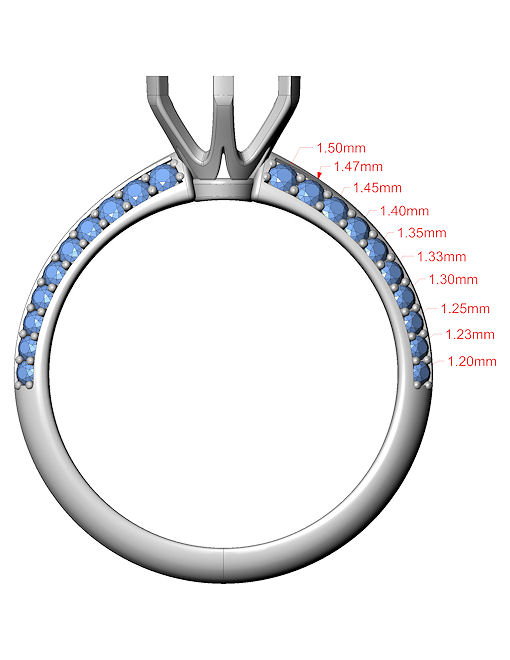 Available in platinum, 14K Gold, and by special order can be made in palladium.
High Pressure Enhanced - The Timeless Regal Micropave, when ordered in Platinum or Palladium, is among the only rings available in the world that are 'High Pressure Enhanced' after casting.
This cutting edge high pressure process causes densification to the platinum and palladium yielding a finished ring up to 20% harder than normal platinum or palladium!
The result is crisper polishing and a longer lifetime of beauty. More details including comparison photos are on our High Pressure Enhanced page here.
Please note that this is for the ring only, or effectively a finished ring with no center.
For a ready to wear ring, please select an appropriate round center stone (6.5mm - 10mm rounds only) and add it to your cart and checkout with both the ring and center stone.
We will automatically size and assemble into a finished ring for you.
Our Asha® H&A Rounds page is here and our Amora Gem H&A Rounds page is here.
Additional Details:
Comfort fit shank for ease and comfort during daily wear.
________________________________________________________________
Due to our sales volume, please allow an average of 15-20 business days between placing an order for this ring and receiving it. Please do not send an e-mail to inquire about the status of your order until at least two to three full weeks have passed since order placement.
We do not accept requests or financial inducements to "rush" a ring order - it does neither of us any good to rush a ring and then ship you a ring that is less than top-quality workmanship, so please plan ahead and order early.
If you have a special occasion planned that involves your ring order, please specify the date you need the ring by under the special instructions during checkout - we will do everything we can to make sure you have your ring by the date specified.
We hold the right to refuse any order that needs to be delivered within a timeframe we consider inadequate for the satisfactory and high-quality completion of the ring.
We will *not* consider any requests to deliver a ring by a certain date after your order has been placed.