Our reproduction is based on an 1895 Cartier ring for round center stones, with a few updates to improve upon the original.
Our reproduction provides a stunning look whereby the upper half of the ring appears to be made almost completely out of diamond.
This effect is done by minimizing the metal and delicately setting 10, top quality 2.1mm (.45ctw) natural white diamonds via bead setting
(we use extremely well cut, VS1-VS2, F-G color natural diamonds).
Prongs can be clawed by request, simply leave a note during checkout requesting claw style prongs.

Our 1895 Cartier-style Reproduction ring is available for round center stones only, and for center stone sizes measuring approximately 6mm up to 13.5mm.

We've also added an interior comfort fit shank, and twinned prongs to accentuate the round center stone.
The end result is a ring that has become one of the best selling rings we've made to date.
"... I love my BTD Cartier Repro setting!
It is just stunning!
I have actually had 3 people say that my ring is the most beautiful ring that they have EVER seen!"
- Customer Testimonial
Video showcasing our 1895 Cartier Reproduction ring.
Center stone is a 2.98ct E/IF Amora Gem, the ring is HPE palladium and a size 6.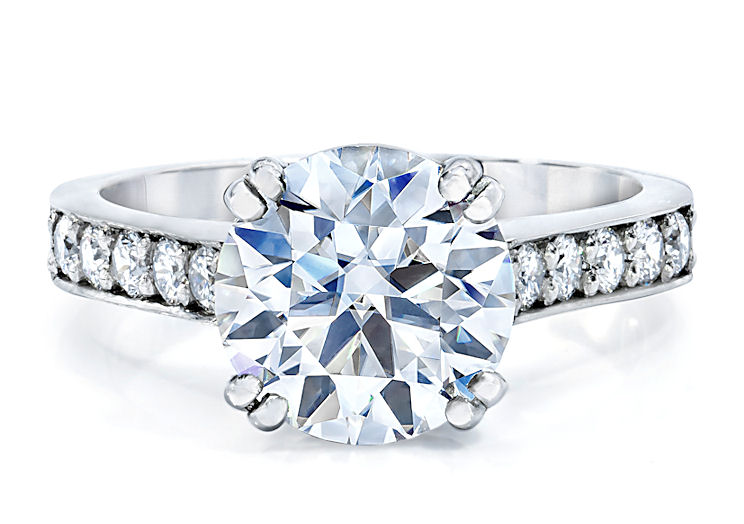 This reproduction is 'band friendly' and provides a flush fit for most wedding bands, including our matching wedding band designed expressly for this reproduction.
Wedding Set options: If you are interested in creating a knockout look with 1ctw of natural diamonds on your finger, consider adding the .55ctw matching wedding band. The band sits flush, and can be used on either (or both) sides of the ring.
Details regarding the matching wedding band for this Cartier-style reproduction ring are here.
1895 Cartier reproduction with matching wedding band...1ctw natural diamond
Even more impressive - our 1895 Cartier-style Reproduction Ring, when ordered in Platinum or Palladium, is among the only rings available in the world that are 'High Pressure Enhanced' after casting. This cutting edge high pressure process causes densification to the platinum and palladium yielding a finished ring up to 20% harder than normal platinum or palladium!
The result is crisper polishing and a longer lifetime of beauty. More details including comparison photos are on our High Pressure Enhanced page here.
Note that among the many details, we also polish the inside of the prongs before setting your center stone. A small detail and one that most jewelers ignore, but our goal is to deliver the finest ring possible to you.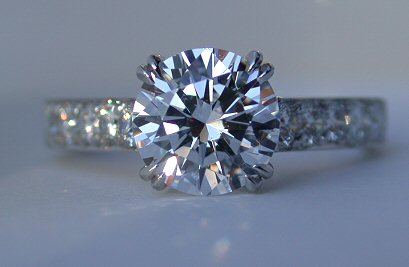 Photo showing "claw" style prongs, available by request.
(Note that sunlight was only hitting the ring on the left,
which is why the right side seems darker.)
Please note that this is for the ring, side diamonds, and surprise diamond only, or effectively a finished ring with no center.
For a ready to wear ring, please select an appropriate round center stone (6mm - 13.5mm rounds only) and add it to your cart along with the ring setting, then follow the prompts through the checkout process.
Or, if you have your own center stone that you would like to have set locally, please specify the measurements and weight of your center stone in the 'Order Instructions/Comments' section during checkout so that we can send you a ring mounting that has the correctly sized prong head to fit your stone.
We will automatically size and assemble into a finished ring for you.
Our Asha® H&A Rounds page is here and our Amora Gem Eternity H&A Rounds page is here.
Additional Details:
Surprise top grade, natural diamond on the underside.
Comfort fit shank for ease and comfort during daily wear.
Even the inside of the prongs are polished to ensure maximum shine from every angle.
Available in platinum or 14kt gold.
________________________________________________________
Width, top: 2.9mm
Width bottom: 2.6mm
Thickness, top: 4.75mm
Thickness, bottom: 1.3mm
Height of stone off of finger: A 9mm round sets 7.75mm high.
________________________________________________________________
Due to our sales volume, please allow an average of 15-20 business days between placing an order for this ring and receiving it. Please do not send an e-mail to inquire about the status of your order until at least two to three full weeks have passed since order placement.
We do not accept requests or financial inducements to "rush" a ring order - it does neither of us any good to rush a ring and then ship you a ring that is less than top-quality workmanship, so please plan ahead and order early.
If you have a special occasion planned that involves your ring order, please specify the date you need the ring by under the special instructions during checkout - we will do everything we can to make sure you have your ring by the date specified.
We hold the right to refuse any order that needs to be delivered within a timeframe we consider inadequate for the satisfactory and high-quality completion of the ring.
We will *not* consider any requests to deliver a ring by a certain date after your order has been placed.