Our matched wedding band for the Timeless 1895 Cartier reproduction ring features the same 'bead set' style used in the reproduction engagement ring, but with 12 total diamonds instead of 10. This ensures the diamonds start point on the sides matches the engagement ring, and adds even more sparkle. When worn with the matched engagement ring, this wedding set provides an amazing 1ctw of natural diamonds, creating a sparkling display that has to be seen to be believed. The effect comes in part because the bead setting minimizes any metal showing, so the look of the band is that the whole top half of it is made almost entirely out of diamond.
Band is set with 12, top quality 2.1mm (.45ctw) white diamonds via bead setting (we use extremely well cut, VS1-VS2, D-F color diamonds).
This band features an understated air of sophistication, with its clean lines and elegant styling. This band sets flush with our 1895 Cartier reproduction ring, and features a comfort fit interior for ease of wear.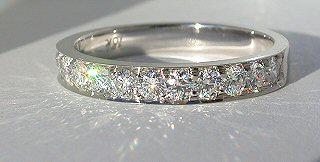 1895 Cartier reproduction band shown with optional but available matching ring.

Combined total of 1ctw in natural diamond sidestones.
Even more impressive - our 1895 Cartier-style Reproduction Band, when ordered in Platinum, is among the only bands available in the world that are 'High Pressure Enhanced' after casting. This cutting edge high pressure process causes densification to the metal yielding a finished band up to 20% harder than normal platinum!
The result is crisper polishing and a longer lifetime of beauty. More details including comparison photos are on our High Pressure Enhanced page here.
Available in platinum or 14kt gold.
Last but not least, this band is perfectly suitable for wearing by itself.
________________________________________________________
Measurements:

Width, top and bottom: 3mm

Thickness top: 1.8mm

Thickness bottom: 1.4mm
________________________________________________________________
Due to our sales volume, please allow an average of 15-20 business days between placing an order for this ring and receiving it. Please do not send an e-mail to inquire about the status of your order until at least two to three full weeks have passed since order placement.
We do not accept requests or financial inducements to "rush" a ring order - it does neither of us any good to rush a ring and then ship you a ring that is less than top-quality workmanship, so please plan ahead and order early.
If you have a special occasion planned that involves your ring order, please specify the date you need the ring by under the special instructions during checkout - we will do everything we can to make sure you have your ring by the date specified.
We hold the right to refuse any order that needs to be delivered within a timeframe we consider inadequate for the satisfactory and high-quality completion of the ring.
We will *not* consider any requests to deliver a ring by a certain date after your order has been placed.