Asha Pear
Rating:

( 1 product review )
Availability:
We will not be restocking this item, and have none remaining in inventory.
Product Description
The pear cut Ashas have been discontinued and will not be restocked.
Asha® Pear Diamond Simulant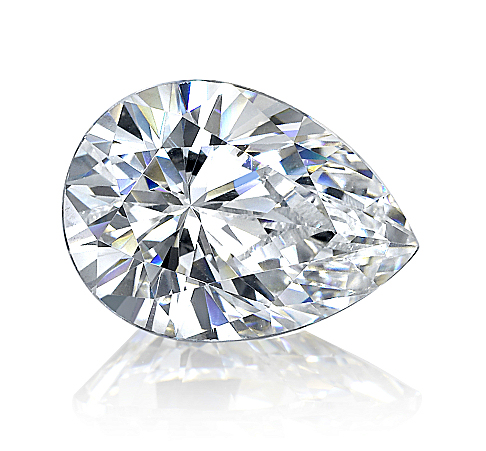 Studio photo of our Asha Pear diamond simulant
We have received a number of requests to bring back our pear cut Asha's (last offered in 2004). Based on knowledge gained in cutting our Takara yellow diamonds, we will continue to cut our Asha pears with the more exotic French tip to maximize the diamond beauty.

While the French tip cut is not as common in natural diamond since it adds to the complexity of cutting the pear, it does make for a much more beautiful and sparkly finished 'diamond'.




Asha® Pear Highlights

:

Cut for brilliance:


Optimal specifications for cutting, maximizing the inherent beauty of the pear cut.



You will be pleased or a full refund will be promptly issued:


See our satisfaction guarantee here - you must be thrilled with your purchase, or we will gladly return your funds.



Rings: The pear can be mounted in our Timeless Tapered Baguette, our Micropave Cathedral (2 row or 3 row), our Tiffany Cathedral, and our Classic Tiffany. For the Tiffany Cathedral, just pick a 6 prong head, we will use an appropriate pear head. When you order a ring and a stone within the same order, we will set your stone free of charge!
Other Details
5.75x3.25mm diameter:
2.2mm depth
---
Find Similar Products by Category

Product Reviews
Customers Who Viewed This Product Also Viewed
Most Helpful Customer Reviews
Pretty Pear

By B H on 12th Apr 2013

---
See all 1 customer reviews (newest first)
Write a customer review