Product Description
Timeless Tapered Baguettes Semi-Mount
This sophisticated and elegant ring features a center basket head which can be made to hold most stone shapes, including emerald cut and cushion cut, and is set with two tapered side natural diamond baguettes.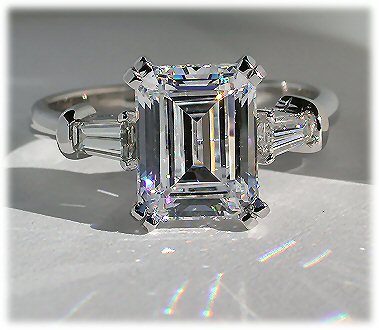 Timeless Tapered Baguette ring with natural diamond side baguettes
Shown here with a 2.5ct (9x7mm) emerald cut Asha® center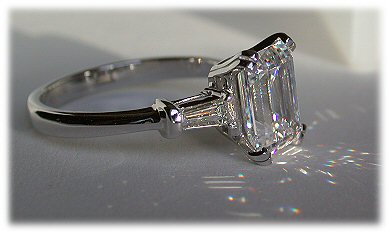 ring profile


ring on a finger

Ring Shank Details:

Tapers from the bottom towards the side baguettes

Bottom (

2.47mm

); ring shank next to baguettes (

2.05mm

)

Low-profile: 2.5 ct emerald cut is 6.7mm high off of the finger

Ring Details:

Fits most sizes and cuts for the center stone.

side natural G color, VS clarity

baguettes

measuring

4.5mm x 2.5mm x 1.5mm

,
one on each side of the center stone (approx.

0.30ctw diamond

)


Our Timeless Tapered Baguette Ring is among the only rings available in the world that are 'High Pressure Enhanced' after casting.

This cutting edge high pressure process causes densification to the metal yielding a finished ring up to 20% harder than normal platinum!

The result is crisper polishing and a longer lifetime of beauty.
More details including comparison photos are on our High Pressure Enhanced page here.



---

Note: This page allows you to select the semi-mount only; center stone is NOT included. You will need to add an emerald cut or other shape Asha if you'd like to order a completed, ready to wear ring. You are, of course, welcome to order only the semi-mount if you have your own compatible stone already (please see compatible center stone measurements under 'Ring Details').

You may wish to visit our Asha Index page to add a stone to complete your ring.

Please note: While we only photoed it with an Emerald center, this ring can hold almost any center (round, princess, flanders, Krupps, radiant, etc) up to approximately 9mm across.

We do not offer a matching band since the width of the center stone varies, which means we can't make a standard band for it.
Due to our sales volume, please allow an average of 15-20 business days between placing an order for this ring and receiving it. Please do not send an e-mail to inquire about the status of your order until at least two to three full weeks have passed since order placement.
We do not accept requests or financial inducements to "rush" a ring order - it does neither of us any good to rush a ring and then ship you a ring that is less than top-quality workmanship, so please plan ahead and order early.
If you have a special occasion planned that involves your ring order, please specify the date you need the ring by under the special instructions during checkout - we will do everything we can to make sure you have your ring by the date specified.
We hold the right to refuse any order that needs to be delivered within a timeframe we consider inadequate for the satisfactory and high-quality completion of the ring.
We will *not* consider any requests to deliver a ring by a certain date after your order has been placed.
Warranty Information
40 day returns
Other Details
Center stone options:
Please add your desired center stone to your shopping cart along with the ring and follow the prompts through to checkout. This ring is designed to accommodate most center stone shapes, and in sizes up to approximately 9mm across.
---
Find Similar Products by Category
Customers Who Viewed This Product Also Viewed