Asha® 3-prong "Martini" Stud Earrings

Low-set, highly visible, and simply beautiful

Asha 3-prong Martini studs showing their fire (2.00ctw / 6.5mm each stone)
---
Our Martini studs offer three distinct advantages over other stud earrings:
More stone, less metal:

Setting virtually disappears, leaving the focus entirely on the beauty of your Asha center stone.

Comfortable:

Setting snugly recesses into your earlobes pierce hole, making the center Asha® sit very low, thus more comfortable for daily wear.

Avoids earring droop:

Eliminates or dramatically reduces earring 'droop' which affects many higher mount style studs.
Martini Backing system: In order to hold the earring in place, a nut or back must be used.
We offer two options - the standard friction back (sometimes termed butterfly back) where the tension of the metal nut holds it in place, and the new Protektor clutch locking system.
The protektor system is put on by squeezing the two clasps on the side and sliding it into place. Release and the the lock springs shut locking it into place.
This is the same style backing used on the highest quality diamond studs. A photo of this style is shown below: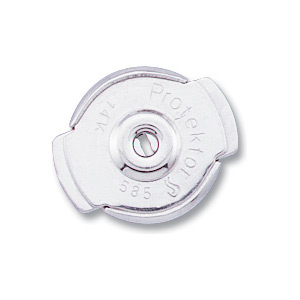 Fast delivery - Due to the high demand, we're pre-stocking these earrings and ship via 2nd UPS for US orders. Orders received before 11AM PST usually ship the very same day, and ship via UPS 2nd day air to US destinations and FedEx for destinations outside the US.

Most popular size? Our 2.00ctw is our best-selling size.
(Note: '2.00ctw' means 2 Carat Total Weight. Thus, each earring holds a 1ct, or 6.5mm, Asha H&A round).