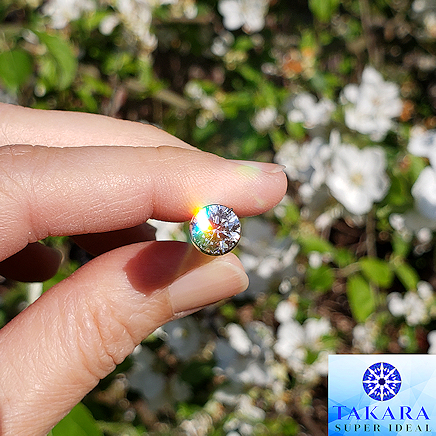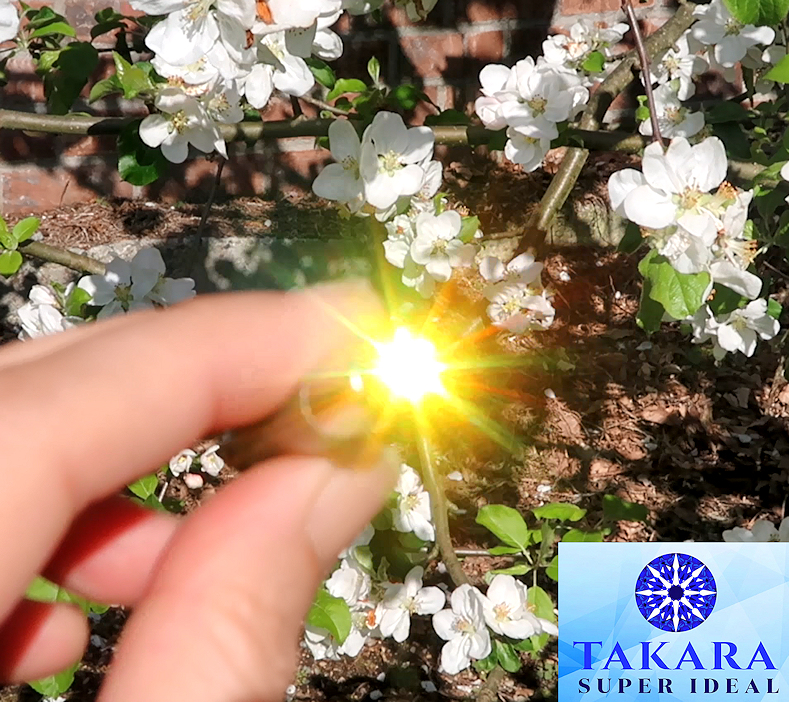 The Diamond of your Dreams:
Our Takara lab created diamonds are real diamond - grown in a diamond greenhouse, rather than mined. They are purer than most mined diamonds (Type IIa), slightly harder than almost all mined diamonds, and a bit more structurally perfect as they have minimal internal strain (vs typical CVD grown and mined have high amounts of internal strain).
Takara Super Ideals are near colorless and colorless lab grown white diamonds, and cut to incredible Super Ideal H&A perfection to offer you the chance to experience some of the most stunning diamonds in the world.
They are purer and harder than 98% of all mined diamonds. We cut exclusively to H&A cut Takara Super ideal H&A lab diamond standards, which are match for the AGS-000 standards.
Our Takara Super Ideals are the absolute pinnacle of diamond beauty - only 1% of mined diamonds are cut to this level of beauty due to the cost and complexity involved.
If you are new to the world of lab grown diamonds, a quick visit to our lab created diamond FAQ page may be worth a quick read: Lab diamond FAQ
Since 2002 - Our Takara lab grown diamonds were the first lab grown diamonds to be sold on the web (at that time, just yellow..white's were a dream then, but reality now!).
Update 11/25/19 - We've restocked with a massive addition of 500+ new Takara H&A lab diamonds. At this point, we believe this is the world's largest selection of lab grown H&A diamonds.
In addition, most of these are certed from IGI and you can click into the diamond cert number on our inventory page (click here to jump to inventory page) to see the inclusion plot and other details about any Takara: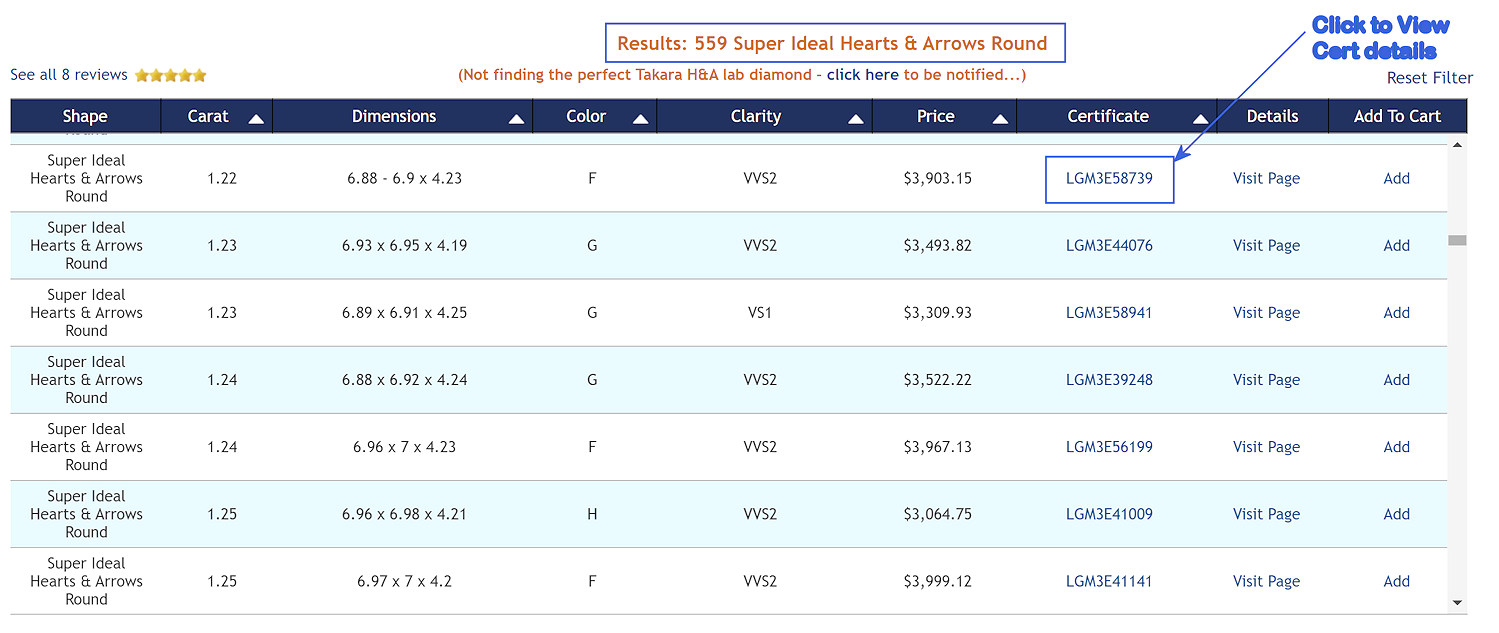 From there, you can view the IGI report: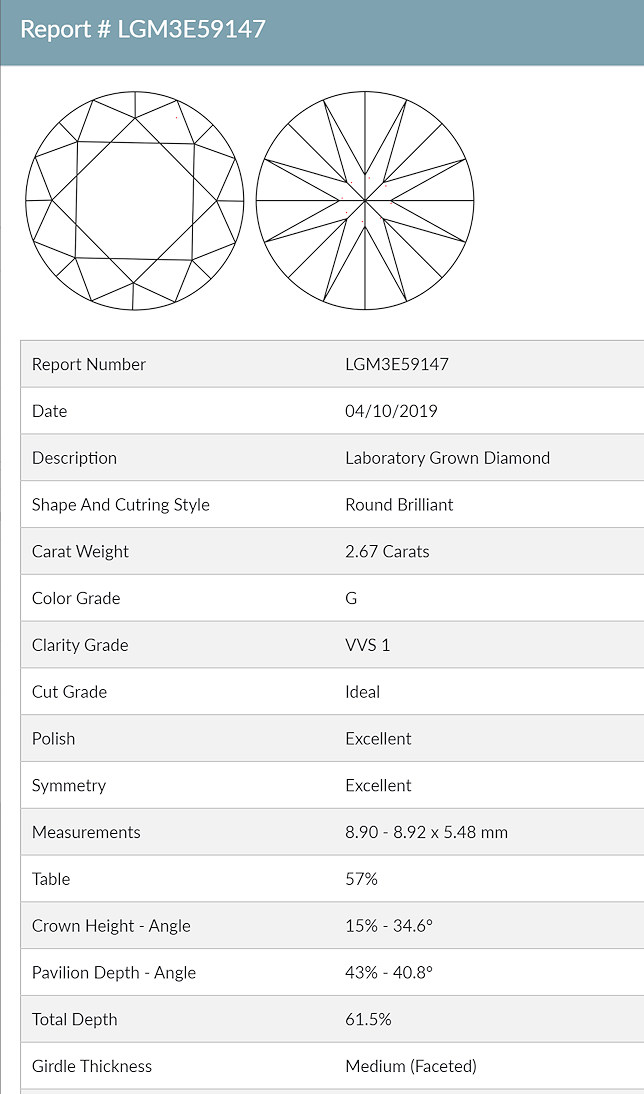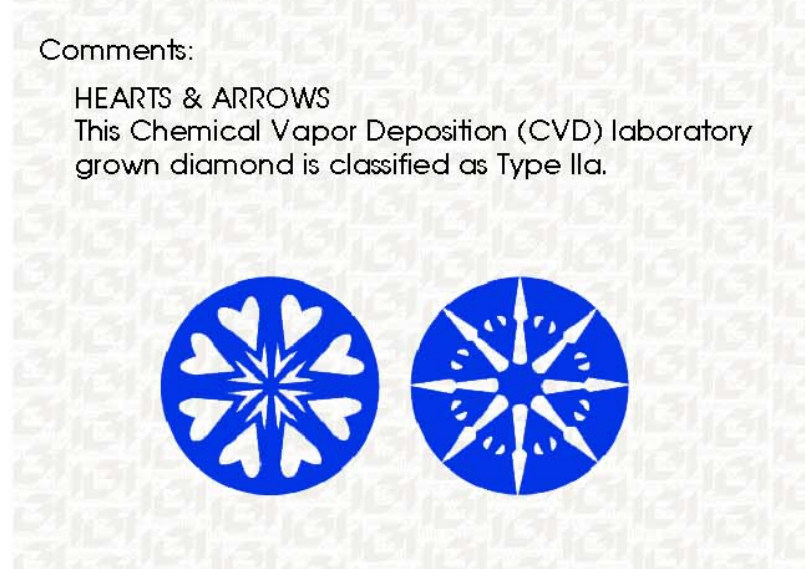 Update 5/2 - NAGL diamond grading lab was able to verify that our Takara Super Ideal's have no interrnal strain! By contrast, mined diamonds and less pure CVD grown diamonds almost always have high amounts of internal strain.
Here's what internal strain looks like (this is a mined diamond - photo courtesy of GIA research):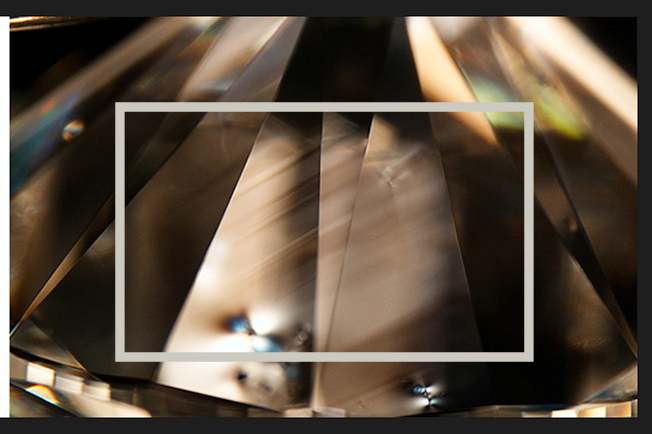 Above: Internal strain, almost all mined diamonds have internal strain.
Below: No internal strain (Takara lab created diamonds have no internal strain):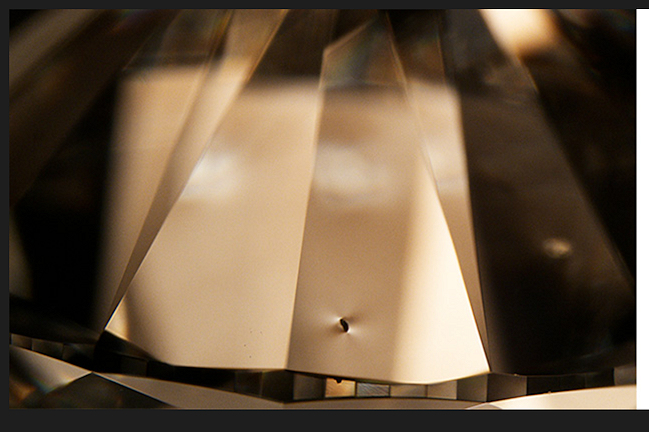 Above: photo of no internal strain.
Summary - Takara lab created diamonds are technically a little more structurally perfect diamonds vs mined or less pure CVD lab grown!
Update: 4/26/19 - It's official! Here's the grading report summary of our latest Takara lab created diamonds, and the first 'all D color' restock we've had!

Update: 4/24/19 - We have 3 new Takara's going to the diamond grading lab and will be out for sale next week: 1.50ct (already sold), 1.26ct, 1.20ct. As you can see, the sizes are much larger now and perfect sizes for engagement rings! We are very excited about these developments and will have another set of Takara's finishing next week (including another 1.50ct).
Update 4/13/19 - We've added a Takara restocking page to let you keep track of expected production and new arrivals: https://betterthandiamond.com/pages/Takara-lab-diamond-Restocking-schedule.html
Update 4/4/19 - We have rough now in cutting that looks like will yield 1.20ct .... and one as high as 1.50ct finished AGS-000 cut Super Ideal H&A Takaras! Color is expected to be D-F color for all of these.
Update 4/3/19 - All 1ct+ Takara's have sold out. However we have more cutting in progress, as well as a pair of what will be .70ct for stud earrings. Production is steadily ramping up!
Update - 3/15/19 - Our first ever 1ct+ Takara Eternity has completed - 1.07ct! And another first, our very first D color as well (1.01ct).
Update - 2/21/19 - One of our best yet Takara lab diamonds was born last night...we are optimistic it will be D color, high clarity and over 1ct finished! It was so exciting that we made a quick video to show you:
Production of 1ct+ Takara's should ramp quite a bit over the next two months - and just in time as we are basically sold out of 1ct Amora Gems! These first 4 should be ready with independent grading in the next 2-3 weeks.
In the news: Lab diamond sales are expanding rapidly as an article in Forbes points out -
Lab diamond demand growing, sector expected to grow 22% per year vs 2% per year for mined diamonds:
https://www.forbes.com/…/lab-diamonds-will-be-jewelers…/amp/
Our focus is on maximum fire and beauty - every Takara Super Ideal lab created diamond is cut to AGS-000 Super Ideal H&A standards, and below you can see the results via studio video of a Takara Super Ideal, F color, VS2:
11/7/18 - We've sold out of Takara H&A lab diamonds. We have more in grading now and hope to have these out for sale by Nov 16th or so!
10/28/18 - First Takara H&A lab diamonds are in inventory and ready to purchase! Includes .46ct E/IF (Internally Flawless) H&A and .68ct E/SI1, AGS-0 Super Ideal H&A!
10/19/18 - We are working now on production of H&A cut Takara lab white diamonds! These will start off smaller (.50ct - .75ct) and working our way towards 1ct+ size. Color will be E-H color. These will primarily be targeted as earrings and will be cut to our famed Eternity Super Ideal H&A cut specs! More info over the next few weeks.
Update 2: 10/19/18 - Quick (and slightly distorted - photo was taken at an angle) cell phone pic of the first Super Ideal H&A Takara round - both hearts and arrows pattern! It's a poor photo overall but the diamond grading lab will be taking new ones in high resolution next week...thus for now a sneak peek:

Inventory and certification details - you can better see the individual specifications for each Takara diamond on our inventory page here - https://betterthandiamond.com/takara-diamond-search.php (or simply click the Takara Inventory menu).
We are also pleased to note that our inventory previously included the world's largest, colorless, lab grown round diamond for sale (2.40ct, Ideal cut, D color)!
Yahoo news coverage:
http://finance.yahoo.com/news/betterthandiamond-com-announces-world-largest-050500122.html
Pure Grown from birth:
Unlike most other lab grown diamonds, Takaras are pure grown from the start. Many lab grown diamonds are grown at low color, fast rate via CVD, and then HPHT treated to try and clean up the growth errors and make them whiter. The inherent impurities and atomic dislocations mean they have a grey or brown tint that does not look good (most mined H color and lower will have yellow tinting, not brown or grey) and will not achieve D/E/F color like Takaras.
Takara's are 100% HPHT grown in an ultra-pure environment. This means it takes longer to grow each Takara, but the result - some of the purest, hardest and most perfect diamonds on the planet - is very much worth it.
Note that this New York Times article discusses the increasing demand for the ultra-pure Type IIA diamonds and may be of interest: The Market for Golconda diamonds has mushroomed
The 2.40ct Takara was at the time (2015) the largest colorless round lab created diamond currently available for sale in the world! (Not to mention it's an Ideal cut round...which is rarer amongst mined and lab grown).
Of interest, the Takara 2.40ct sells for approximately 1/4 the price of the equivalent mined diamond ($18K vs. $62K)...and is purer and harder than 98% of all mined diamonds
Studio video:
Sample Grading report - All Takara Lab Diamonds come with a full diamond grading report from an independent grading laboratory (either NAGL or IGI):
You may wish to review our Takara Inventory page, which has details on each diamond's cut grade, depth and table %, and the OGI Light performance ranking for Fire/Brilliance/Scintillation.
Takara lab diamonds are hand cut, unlike our Amora Gem which is robotically cut, so each Takara will have various light performance and cut grade.
Inventory page link - hover over the diamond to see details: https://betterthandiamond.com/takaradiamondsearch.php
More about Takara Lab Diamonds:
Lab grown ultra-pure diamonds rather than mined - environmentally friendly, and 100% Conflict Free.
Takaras are Type IIa diamonds, grown in a lab. Takara diamonds are thus purer than 98% of all mined diamonds, as well as harder than 98% of all mined diamonds.
Most mined diamonds contain varying levels of nitrogen and hence are frequently 'near colorless'. These impurities also result in a slightly softer diamond compared to their purer and thus atomically more perfect, Type IIa counterparts.
Mined diamonds such as the famed Golconda diamonds and the Cullinan diamond are also in the rare, Type IIa diamond and we are pleased to have our Takara lab diamonds in the same Type IIa diamond category - Type IIa, with exceptional clear color.
This exceptional purity means every Takara white is a true colorless diamond that grade as D, E or F (all 'colorless' grades) on the GIA diamond grading scale.
You can see more details on each Takara lab diamond on our inventory search page:
https://betterthandiamond.com/takaradiamondsearch.php
Notification list - you can sign up on our notification list for the size/color Takara Diamond you are after and we'll automatically notify you as soon as one becomes available that meets your specifications:
Note that every Takara diamond will test positive on any and all diamond testers - Takaras are real, ultra-pure lab grown diamond, not falsely labelled CZ like on many, many other websites. Every Takara comes with an independent, full diamond grading report.