1.23 ct Fancy Vivid Yellow Round Takara Diamond
Rating:

( 1 product review )
Availability:
Price is for the loose Takara. The ring shown is available, with or without side stones - inquire for pricing.
Product Description
1.23 ct Fancy Vivid Yellow Round Takara lab Diamond
This is one of our largest Takaras to date, and its impressive size is matched by its equally impressive beauty.
This Takara combines a rich golden yellow with high clarity and lots of life - an impressive stone in all aspects.
Carat Weight: 1.23 ct
Clarity: VS
Color: Fancy Vivid Yellow
This Takara is currently mounted in a 3 stone ring that is awaiting side stones. It is available loose or mounted - pricing on this page is for the loose diamond only.
Ships with independent grading report, shown below (note, the photo below is a poor representation of how the diamond shows!)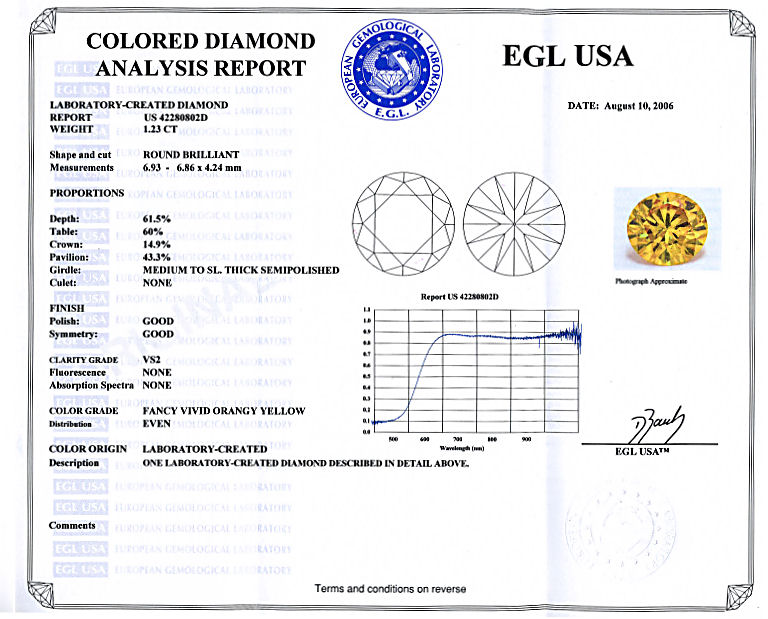 Find Similar Products by Category

Product Reviews
The diamond and ring exceeded our expectations !

By Beatriz on October 2nd, 2019

My fiancé and I have been looking for the perfect ring for some time now and BTD is where we finalized and found the ring.

Dana was super helpful throughout each step. She also helped me selected the perfect ring and discussed with my various options for the purchase; once we selected the diamond we liked they were quick to reserve it for us and the ring was set within reasonable time!

The diamond and setting was gorgeous and we can't be happier with what we purchased!

I absolutely love the ring and receive tons of compliments! I highly recommend buying from Better than Diamond!

https://www.youtube.com/watch?v=hGnVySAqjmY

Thank you!

---
Customers Who Viewed This Product Also Viewed